Sorronia - CD Review
Words of Silence
CD Info:
2013
Label: Bakerteam Records
Genre: Symphonic metal
Language: English
Tracks: 9 Total time: 32:24
Rating: 8 of 10
When the femme-metal scene in Europe comes to mind, several countries stand out as prime locations for the genre: The Netherlands, Finland, and perhaps Italy or Germany immediately come to mind. However, Hungary is now another country that can consider itself part of the "united nations of femme-metal" with the inclusion of Budapest's Sorronia; a symphonic metal powerhouse led by the sweet vocals of Anna Király and the flowing melodies of keyboardist István Biró. Proving that they could hold their own along with the more well-established acts on the scene, Sorronia has already gained some recognition by opening for the legendary Tarja on the European leg of her Colours in the Road tour earlier this year. For a band that formed just 3 years ago, Sorronia is getting noticed in all the right places; and their debut album, Words of Silence, is gaining new listeners outside the borders of Hungary.
"Intro": A sweeping, bombastic piece that calls for an orchestra. One could easily imagine this on a movie soundtrack.
"Fallen Angel": The intro segues into this track, continuing the grandiose orchestral sounds. Anna's voice is gentle yet strong. Some spoken male vocals to counter Anna's voice. Musically, it couples gothic darkness with symphonic majesty quite nicely.
"Enemy of Yourself": The orchestral elements on this song are very gloomy and ominous; Anna's high voice both contrasting and complementing the music at the same time. A shredding guitar solo in the middle, provided by László "Hümér" Szabó.
"Serenade of Memories": Gorgeous piano work and delicate vocals belie this song as a gentle ballad, but guitars and drums kick in to give this song a rockin' flair, and then of course the elaborate orchestration. A moving guitar solo emphasizes the morose vibe of the tune.
"Lost in Falling": Another tune worthy of a movie soundtrack epic, it is sonorous and majestic; the guitar work taking us through the winding labyrinth that interweaves between Anna's voice and the resounding symphonic instrumentation.
"Shattered": Interesting contrasts here; there are lovely piano harmonies, but Anna's vocals sound slightly rough around the edges, putting a little twist on things. The guitar work is nice, but "less is more" sometimes, and I think this song speaks much louder when stripped to its basics. However, both versions are so good that I consider it a favorite either way.
"My Eternal Land": Another song that starts out as if it might be a ballad, and then kicking into rock mode. The guitars are melodic and not too heavy on this track, but fit nicely with the overall feel of the tune. Some operatic/choir vocals here too.
"Leave it Behind": Returning to the heavy symphonic elements, Anna shows off some of her operatic vocal chops here. The guitars are more aggressive on this track, almost dabbling a bit into power metal. A short song, just a little above the 3-minute mark.
"This is the End": A fitting closer, saving the most bombastic orchestration for last. The guitars are churning, the drums are pounding, and Anna's voice carries the weight of the song seamlessly. A hypnotic guitar solo repeats the same riffs over and over, but easily carries you through the thundering orchestra, while Anna's vocals finish it off.
Overall opinion: For a debut album, this is a solid piece of work and shows that indeed, Sorronia has much potential to be a band to watch out for on the scene. However, because this is their first album, they are still "wet behind the ears" in some respects; but it isn't anything a little fine-tuning can't fix. For one, I found the songs to be far too short for the style that Sorronia is trying to achieve. It's difficult to capture the epic bombast that symphonic metal requires, in the confines of a 3- or 4-minute song. It isn't impossible, but for such a lush sound, I felt the songs ended far too soon and would have been better served if they were just a few minutes longer. Also, there were a few moments on the album where some songs felt unsure as to whether they wanted to be ballads or to be heavy songs, so they stayed in a mid-tempo plateau; which were still good songs, but might have been even better had they taken one distinct direction or the other. "Shattered" is a prime example of this; it's my favorite track on the album, yet it still feels to me like it would have been much better with a piano-only version or as a ballad. However, these are minor glitches in the overall scope of the album; the potential and promise that this band holds shines through in every track. Anna's voice, as best as I can describe it, feels like a unique blend of Johanna Kurkela, Charlotte Wessels, and Cristina Scabbia all rolled into one, with a bit of operatic flair thrown in for good measure; and even that doesn't come close to the mark. I would really love to hear more of Anna's operatic tendencies in the future, because she's very good at it and it's clear that Sorronia's musical direction calls for it. The music, from first track to last, takes the listener on a journey that is punctuated by orchestral aspects that have been a benchmark of this genre; music that feels as though it belongs on a film soundtrack. Obviously there is a reason why Sorronia has gained so much attention in the short time since they began: they are the next wave in the tide of symphonic metal bands, and with any luck, they are destined to make a huge splash.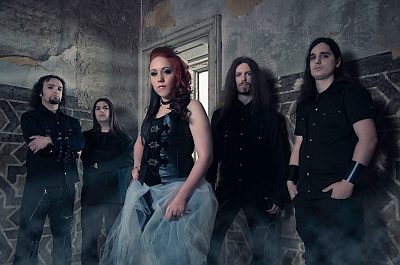 For more information, visit the band's official blog.