A Sound of Thunder - CD Review
The Lesser Key of Solomon

CD Info:
Label: Mad Neptune Records
Genre: Power metal
Language: English
Tracks: 10
Total time: 60:59
Rating: 10/10
Since their beginnings in 2011, A Sound of Thunder has been one of the most prolific bands on the scene. In the 4 years since, they have released 2 EPs and 3 albums. While interviewing them last year for the release of their album Time's Arrow, they were already hard at work on new material. Now that album #4, The Lesser Key of Solomon, is about to be released, they have mentioned on their Facebook page that they are already "halfway finished" with album #5! Suffice it to say, where most bands in their genre have maybe released an album or two over the same time-period; A Sound of Thunder continues to keep tapping into their creative well and filling their canteens to the brim. Unlike other artists who constantly release material over a short span of time, A Sound of Thunder keeps getting better with each release and nothing ever sounds boring or redundant.
This sort of dedication to their art has also amassed the band an equally dedicated fanbase; when the band rallied their "Legion of Thunder" to back their Kickstarter campaign in late 2013, the fans answered the call and didn't hesitate to put their money down on a product they believed in. Shattering their initial Kickstarter goal within a matter of days, the band reached over $21,000 in donations from listeners around the world to fund the making of The Lesser Key of Solomon; not only enabling them to make a new album, but giving them the means to fund a covers EP and ultimately a tour of the West Coast. Many bands have a fanbase who say they will go the distance for the music they love, but very few of them are willing to cough up the amounts that the Legion was throwing down. The band received upwards of $3,000 in a single donation; reaching their goal above and beyond long before the month-long deadline had ended. The band had closed out 2013 on a high note and was starting 2014 with a bang.
As the New Year went on, the band kept Kickstarter funders updated on the album's latest progress. This work was deemed to be their "darkest" material to date and unanimously agreed by all members of the band to be their finest work so far. Giving the Kickstarter backers a little taste of what the album would be like, an alternate version of a song called "Udoroth" was sent to Kickstarter members only, and did not fail to deliver on the band's promise that the best was yet to come.
The album begins with a short instrumental piece called "Nexus of Realities", which is an eerie-sounding tune with tinkling pianos and speaking voices counting off numbers. A couple of quick guitar parts from Josh before he completely rips it up, while Chris' drumming has a marching cadence. This has a very symphonic feel without being smothered in an orchestra or by orchestral instrumentation.
"Nexus" segues right into the second track, "Udoroth"; which is a pounding, anthemic song that is sure to get the fans headbanging and singing right along with their fists in the air. Keeping to the true elements of a power metal band, this song is all about a bad-ass with "thunder coursing through his veins" that even demons fear. Of course, Nina's voice matches the bad-assery to sing about such a character! There is a part in the middle where the crowd can get into chanting along at live shows, and then Nina belts out some amazing high notes that would make the Metal God bow in reverence.
The third song, "Fortuneteller", kicks off with some crunchy guitar riffs from Josh, and reminds me a little of the song "Forsaken" by Dream Theater; that same progressive style while also being ultra-heavy. It's clear that the band is getting more in touch with their symphonic side, as there are some choir-type vocalizations here. Do I also detect a little keyboard work? Surprisingly, it fits in nicely with the band's sound and is not overbearing or bombastic.
Track 4, "The Boy Who Could Fly", is, according to Josh, the first part of a two-song story. The tale begins with haunting acoustic melodies, and then Nina's voice is sweet and strong. This song is one of their slower tracks, but it doesn't lack in power or majesty. To try and describe this song to a reader who has never heard the band, I can easily picture Cristina from Lacuna Coil singing this song, or this song being recommended to fans of Lacuna Coil. It's a slow-yet-heavy tune, complete with wailing guitars that pack a punch at the same time.
"Elijah" is the second part of the story, and where things really start to get interesting. The beginning of the song has some dark piano sounds, and Nina's voice asking if someone is there. You can tell right away that this is a tune that is very gothic, creepy, and dark as hell. For me, it combines all the elements I love about A Sound of Thunder; the progressive elements coupled with traditional metal, as well as bringing in the symphonic aspect, which I think they do so well. The song turns heavier, as Nina tells the tale of a child trapped in their home, with a very overprotective mother as their only friend. The narrator appears to have befriended a ghost boy, of whom the song is named after. Together, they explore the secrets of the house and the rooms forbidden to enter. Nina channels her inner Ms. Hyde as her voice turns to an evil wicked witch; voicing the character of the mother, warning the child that they'll "be sorry if they make another sound!" I think a lot of fans are going to be impressed by hearing this aspect to her voice, as she pays tribute to King Diamond with her own take on haunted tales. This song clocks in at over 9 minutes, but it transitions through so many different sounds and changes that it hardly feels like such a long song at all. Without giving away the end of the story, I will simply say that if you are a fan who loves the band's fascination with pyromania, you will not be disappointed! So far, this is my favorite song on the album.
After a whirlwind ride through the progressive/symphonic side of A Sound of Thunder, "Master of Pain" kicks right back in to their more straight-up metal sound. This is another song I can easily see as being a favorite among fans at live shows. It's got a rhythm that makes for good headbanging, the chorus easily sticks in your head, and there are a couple of parts that encourage a good crowd sing-along!
"Blood From the Mummy's Tomb" is another epic piece that is sure to be a fan-favorite; a song that goes past the 8-minute mark. This is one of the first songs that was played for fans, as far back as late 2013 when a short sample was aired on the Metal Messiah online radio show. Heavy guitars and soaring vocals take the listener on a journey through Egyptian pyramids, sarcophaguses, and ancient hieroglyphics. Powerslave-era Iron Maiden would be proud! The song appears to be told from the perspective of a mummy who has risen to life and broken out of his grave. This one is another favorite.
The eighth song, "Black Secrets", is another no-frills rock tune; a little on the groove-based side, as if they have culled their stoner-rock influences while still keeping it pure metal. Nina's voice does some crazy belting while Josh's guitar parts are more on the gritty side. This is a song I could see working far better in a live setting than how it sounds on the album. It's a cool tune, but some songs really blossom when there is the energy of a live crowd behind it to make it grow, and this feels like one of those to me.
"One Empty Grave" is a song that starts off slow and has a bass part from Jesse that really reminds me of early I Mother Earth. This song is also a nice fusion of the slow, groove-laden psychedelic rock merged with the complex melodies of progressive metal. Nina's vocals alternate from her killer high notes to her softer voice; both interweaving within the song perfectly where they fit best.
The final track, "House of Bones", continues the dark mood of the album and puts a nice cap on it, with pianos playing a down-hearted melody and incoherent voices speaking in the background. This is another epic, creeping close to 9 minutes. After a moment of silence, Jesse comes in with some bass that is reminiscent of Tool. Lyrically, this song keeps to the overall theme of death; this time telling a story of voodoo and death curses. There are wailing guitars throughout, especially towards the end; as the heavy-hitting drum parts keep up to pack a wallop and close out the album on as heavy a note as when it began.
Overall opinion: In just a year's time, A Sound of Thunder has evolved leaps and bounds from Time's Arrow. One of the biggest worries that fans have about bands who are as productive as they are, is that they will run out of creative juice and end up either repeating themselves or will have nothing left to give after only a few short years. However, this has not appeared to be the case with A Sound of Thunder so far; each new album sounds better than the one before and develops in such a way that it doesn't seem like their last effort was just a year ago. There are a lot of bands out there that take upwards of 3 to 4 years to make such a progression in their sound! The Lesser Key of Solomon has found the band experimenting with their more progressive and symphonic side, and I must say it suits them! While I'm sure that much of the band's appeal among many fans has been that they are so different from all of the other bands in their genre, I think that even these listeners will be pleasantly surprised when they hear what the band has done with this particular sound. Suffice it to say, I don't think any fans need to worry about the band suddenly bringing in a full orchestra or choir on their next album. One thing about A Sound of Thunder is that they are great about knowing when to incorporate certain sounds, and even better at knowing how and when to economize on those sounds. In other words, they give you just enough to show you what they are capable of when they delve into certain soundscapes; but not so much that they are bordering on being derivative or causing fans to fear that they are moving too far in a particular musical direction. They are able to take a bit of progressive, a pinch of psychedelic, a hint of gothic, a touch of symphonic, a heaping spoonful of metal, and put it all together to make for some tasty riffs, delicious vocal melodies, and succulent epic heaviness. Thematically, the album is very dark and spooky; a lot of lyrics about death, murder, graveyards, and haunting. Whether it's songs about ghost children, cursed mummies, demons, or voodoo curses; The Lesser Key of Solomon explores the various "faces of death" and uses their music as a platform to tell some pretty killer ghost stories! And really, isn't that what metal is all about—exploring all that is often lurking beneath the shadows? Didn't Black Sabbath, the forefathers of metal themselves, say that the very origin of their sound came from wanting to do with music what horror movies did for film? In that case, A Sound of Thunder has proven that even when they branch out into other subgenres, it still always comes back to the traditional metal roots for them. There was a reason I chose A Sound of Thunder as the band I felt would do great things in 2014, and The Lesser Key of Solomon has more than sufficiently backed this claim.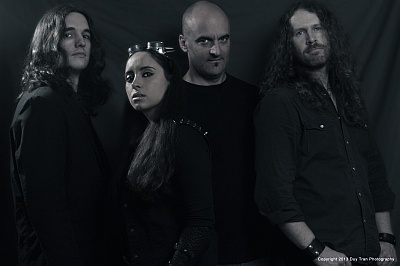 For more information, visit the band's website: www.asoundofthunderband.com