November-7 - Album Review and Mini Interview with Singer Anna
Awaraxid 7mg

Ignorance is bliss – or is it?
Breaking news: Awaraxid 7mg, the controversial drug developed by Nov-7 Pharma, a division of November-7, is now on the market. Prescription free, despite the mysterious death of a Nov-7 research team member, which is said to be connected to the drug.
Wait, what?
For those of you who haven't heard about it yet, Switzerland's November-7 just released a concept album called Awaraxid 7mg, on which they deal with – put simply – the human condition and its pharmaceutical manipulation. Awaraxid 7mg comes with full fledged back story, meticulously told not just in the lyrics but also in tons of additional materials such as a website of its own, 'documentary' videos, and even props. The collector's package of the CD comes with lots of goodies connected to the concept. But first things first.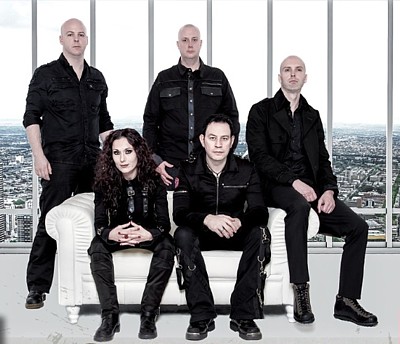 What is Awaraxid all about?
Awaraxid is a psychotropic drug whose story is told on this album. As the name suggests, Awaraxid is designed to make people aware; of themselves, their aspirations and dreams, and their societal constrictions that keep them from living as their true self. Depending on what one realizes in the process, the effects of the drug may cause a euphoric or desperate state of mind.
Tracklist
1. Tug of War
2. Acid Life
3. Black Veil
4. Another Day
5. Wicked Love
6. In Denial
7. Alive
8. Pieces of Me
9. Your Turn
10. Black and White
The musical realization is a consistent development from the band's first album, Season 3. While November-7 have held on to their style of metal with industrial influences, their music has become heavier and a little more daring.
"Tug of War", the opening song, starts off with a fade-in guitar solo that is soon broken by harsh guitars. The quick-paced song has all signature features of the album: heavy guitars, a catchy chorus, all sprinkled with the occasional industrial element. The lyrics already pick up the topic by describing the unwillingness to conform to a status quo that we have been taught to take for granted. The final lines, "Prompted by an impulse of sanity, restrained by a dull mind", show that becoming aware and breaking the cycle is not that easy, though. Luckily, there is a pill for that.
The next two songs, "Acid Life" and "Black Veil", commence to build the imagery of psychological and emotional constrictions as a medical issue (not to confuse with actual mental disease). Even though they are thematically related, melodically they are quite different from one another. While in "Acid Life" the vocals take on an almost taunting ring, "Black Veil" is presented in a more serious fashion, diverting from a challenge to a real struggle.
Next up is "Another Day", the first single out of this album, which also comes with an official video that nicely encompasses the Awaraxid concept. Musically this song takes a step back and does not come off quite as heavy as most of the rest from the album. It is however one of the catchiest songs with some nice electro tweaks. The video tells the story of a young couple participating in an Awaraxid drug trial, and shows the different effects it can have on people.
My personal favorite for a single would have been a track farther down the list. "Pieces of Me" not only has the most powerful chorus on the album but also the best vocal melodies, guitar parts, and electro arrangements. The interplay of the latter two is done particularly well here, and I truly hope this song is at the top of the list for a potential second single.
"Alive" introduces the softer side of the album, or so it seems. Starting off as a (rock) ballad with a powerful, emotional chorus, it turns a heavier song that complements its two extremes nicely. Those in favor of true ballads will still get their treat at the end of the record, when "Black and White" brings a gentle closure.
The end is not a cathartic one, though. What the album does not do, and what the drug Awaraxid will not do either, is give a definite answer or direction. It is up to the individual to make up their mind about how aware they are, or want to be, and what they want to do with it. In any case, side effects may occur.
Vocalist Anna gives us a closer look at the motivation and idea behind the album.
Sonic Cathedral: November 7, Season 3, Awaraxid 7mg... why all the numbers? Any particular reason?
Anna: I know it might sound not true but we actually don't do it on purpose.. Personally I've always been quite bad at maths.. Maybe it's my way to get a revenge on my maths teacher :-).
SC: What came first, the lyrics or the album concept (or is that a hen-or-egg type of question)?
Anna: In the way we operate music always comes first.. Steph [lead guitar player Stephane Geiser] composes the music and then I write the lyrics. Sometimes I get inspired by a piece of music, some other times I simply start by picking up words according to their sound and then I build a song around it.
SC: How hard was it to keep a straight face when shooting the lab-footage for the backstory videos?
Anna: Uh! We totally loved that! We were really imbued in our own parts and we honestly believe that the disease Awaraxid helps threat is one of the worst diseases ever. You think you're alive but you're actually already dead. Cannot imagine anything worse than that...
SC: Would you take Awaraxid?
Anna: I've taken it! It can be scary but again.. I believe in life nothing is for free, you always end up paying a price. But the question is: do you want to pay the price of living a life that is not true to yourself or do you want to pay the price of being who you are?
SC: Isn't there a strong ambivalence, with the guy dying -possibly- of suicide in the teaser video and the girl getting depressed in the "Another Day" video? So when saying you'd take it was your intended message "worth the risk"?
Anna: Yes, it's worth the risk because the other option is to continue to live a life full of constraints. And you end up finding yourself in a cage and die. But Awaraxid will just make you see your dreams and your true self (yes, because most of us have forgotten both as we've become adults) , that's it! It's not going to change your life. It would be too easy and I don't think it works like that. You must take action! And if you're too scared because you'll disappoint people around you or because it's too late, well you're fucked because now that you've seen your dreams clearly you cannot just go back to your previous life...
Coming back to all the background information and additional material the band compiled for this concept album, those who are still having trouble following this talk of awareness and psychological conditions should check out www.awaraxid.com for the full information. The previously mentioned collectors package will then even give you the chance to experience the effects of Awaraxid yourself – it comes with a free drug sample: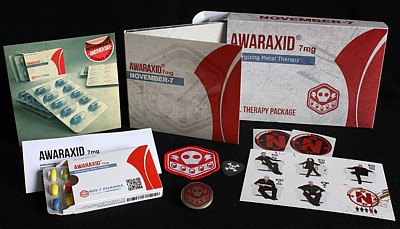 Links: November-7 Official Website
November-7 Facebook Page
Awaraxid Album Website