Stream of Passion Interview
Performed by Phone in June 2011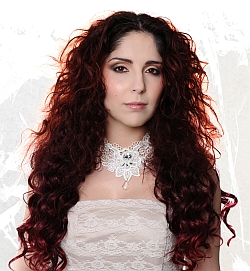 Romantic, dynamic, entrancing, sensual… These are just some of the words that describe the music of Stream of Passion. The Dutch sextet's brand of symphonic metal with progressive twists, lush atmospheres, and the mesmerizing voice of Mexican-born singer Marcela Bovio makes one of the most unique and enjoyable bands of its kind. Now they look to solidify their position as one of the genre's pioneers with their latest album, Darker Days.
Marcela was gracious enough to chat with Sonic Cathedral staff writer Sara Letourneau the week before the European release of Darker Days. The two ladies had much to discuss: Latin music, languages, Vincent Van Gogh, winters in the Netherlands, long bus rides in Canada, and the list goes on. How does all this tie in with the new album? Keep reading to find out!
Sara: Hi, Marcela! We're very happy at Sonic Cathedral to finally do an interview with Stream of Passion!
Marcela: Hello! Yeah, it's great! I think we've known about your site for a few years now. It seems like such a great website for female-fronted music. So, yeah, it's an honor. Thanks very much!
Sara: Thank you! And before I forget, ¿como estás? ["How are you?" in Spanish]
Marcela: (laughs) ¡Muy bien, gracias! ["Very well, thank you!" in Spanish]
Sara: So, congratulations on the upcoming release of Darker Days.
Marcela: Thank you.
Sara: How are you feeling now that the album is going to be released next week in Europe?
Marcela: Oh, we're really excited! It feels like forever from the moment you're first writing and recording the album, and then the mixing and the mastering. It's such a really long process. And then before you can actually release it to the public, you still have to wait for so long, with promotion and everything. So, it's great to finally be able to bring it out. We've very excited about it, and we really want to see what people think of it.
Sara: We can't really talk about reactions or the success of Darker Days yet because it hasn't come out yet. But from what I've seen online, fans seem to be very excited about this. Do you also get the feeling that fans are looking forward to it?
Marcela: Yeah, I do. We've tried to do our best to keep everyone curious about it and to release little bits of information [about it]. We've put a few songs online already, and we're happy to see that everyone likes what they've heard so far and that they are indeed really excited, really anxious for it to be released. So, it's really awesome.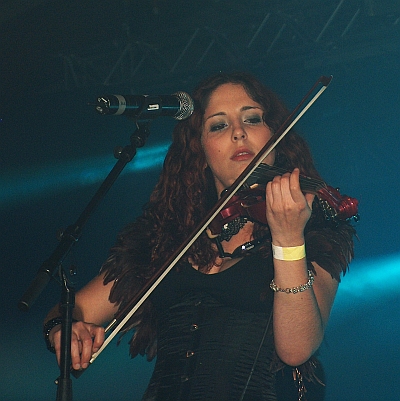 Sara: Recently you did a concert with Delain, and you performed some of the new songs. What was the response to the new material?
Marcela: The response was really, really great. We played three [new] songs, and at the time we had already put a couple of those online. "Collide" and "Spark" are the names of those [two] songs. And people already recognized those songs at the show. They had only heard them online, and they were even singing along with the lyrics. It was like, "Whoa!" It was amazing! We were glad that people enjoyed them, and it felt really good to play them for the first time live.
Sara: I've already listened to Darker Days, and I think your band did a really good job with it. I think it's your most artistic album to date. The one thing I liked most about it and recognized right away was the incorporation of the Latin music elements. Not necessarily the Spanish lyrics, since you've already done that on past Stream of Passion albums. But this time, you incorporated elements of tango and flamenco music, and you used the bandoneon. Was it a conscious decision by the band to use the Latin music elements? Or did it come up spontaneously?
Marcela: Well, we never really plan anything when we write [songs]. We want to keep it as free as possible. But at some point, and I think especially for me, it became more and more important to try to incorporate those Latin influences. In a way, it also let me return to my roots and my old home in Mexico because I've been living in Holland for almost three years now. So, it was a way to kind of get back in touch with Mexico and basically all the music I had listened to when I was living there. On the other hand, we were conscious to doing things that were different. Something different we can do with our genre. Basically, metal and Latin music have completely different backgrounds. So, at one point, I thought, "Well, this is something that can help us find a more unique voice for the band." We're hoping to explore more of that in the future as well.
Sara: Joost van der Brook, who had helped produced your last album The Flame Within, produced the new one as well. What did you like so much about working with him on The Flame Within that convinced you he should produce the new album?
Marcela: Well, for starters, he's a really good friend of ours. And we really feel that he understands exactly what we're going through and what we're looking for musically. So, not only is there a good personal connection, but there's a really good musical connection. Right from the start, when we writing the songs and we would discuss things with him, he really got the idea of where we wanted to go. He'd even give ideas on how to go further with a song or how a particular thing should sound. And it immediately clicked in our heads. So, for us, it was a very obvious choice that he would be the perfect producer for the album. And now that everything is finished and we can hear the final product, we're totally convinced that he truly gets us.
Sara: So, it all seems to come together when you work with Joost.
Marcela: Yeah, exactly. He's fantastic. It's like we don't even have to explain anything. He just gets it. So, it's great.
Sara: How does Stream of Passion normally write its songs? Does one member usually take the lead? Or does everyone contribute equally or come up with their own ideas that they share with the rest of the band later on?
Marcela: I think, in our case, I'm the one who always takes the lead in songwriting. Of course, there's always a moment in the process when everyone takes a part and makes it their own. But, for most of it, I'm the one who takes the lead in the songwriting, and basically the others kind of guide me to go further with the arrangements. One thing that's very important to us is that when we're done writing the songs, we also spend a lot of time rehearsing them. We get together and start playing [the new songs] and make adjustments as necessary. We try to make sure that the live feel that is so important to us is still there, that we can find the energy we exude when we're playing live. So then, we know what we're looking for when we record the songs.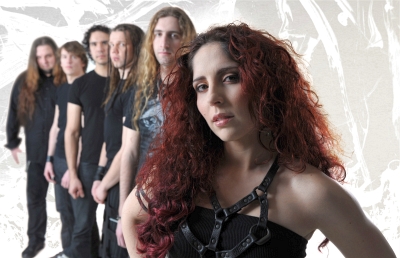 Sara: Lyrically, Darker Days is – for lack of a better word – a much darker album than your past two albums. It deals more with current events, and it also comes across as more emotional and personal than the previous albums. Could you comment on this and discuss some of the ideas you sing about on the new album?
Marcela: Well, I think, yes, Darker Days is definitely more personal and definitely way darker than the previous albums. Personally, a lot of my inspiration came from what I was going through at that moment during the process of putting this album together. Me adjusting to moving from Mexico where it's always sunny and where everyone is always relaxing, to Europe where basically people are very different. They're great – not that I'm complaining or anything – but they're different. And the winters are, compared to Mexico, extremely cold and incredibly long. (laughs) You can be covered in snow for two months in a row! I had no idea it could be like that, that it was going to be so hard for me to deal with it.
Sara: Yeah.
Marcela: And after a while during the winter, I get totally depressed. Just praying there will be a little bit of sunshine to warm things up. So, basically, that whole experience had a big influence on what I ended up writing about. That made everything a little bit darker for us. And then, on top of all that, I was missing my old home, my family, and my friends. And, things are getting worse and worse in Mexico with this whole drug war. Every day, we hear some really horrible things about what's going on over there. In the beginning, it wasn't really close to where I had lived or to the people I know or places I know, but nowadays I hear about a shooting in what used to be my favorite pub when I was still living in Mexico. And I know people who have been killed. All these things hit close to home in a personal way, so of course I had to write about it. So, all this factored together and determined the direction I went lyric-wise. Besides that, the term "darker days," the difficult times that I think everyone goes through at some moment in their lives. There are some days you have to fight through somehow.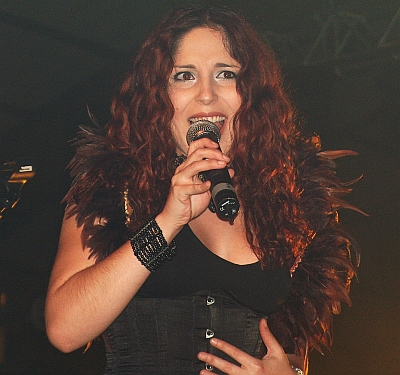 Sara: I was reading the Track by Track section on your website, the one you wrote about the new album. And I read about the song "Closer" and how it ties in with the painter Vincent Van Gogh.
Marcela: Yeah.
Sara: I thought that was a really interesting story. As a matter of fact, I want to share something with you and see if you have any comments on it. One of my favorite quotes of all time is by Vincent Van Gogh, and I think it's related to what you're talking about in this song. He said, "If you hear a voice within you say, 'You cannot paint,' then by all means paint – and that voice will be silenced." What do you think of that? Have you ever heard that quote before?
Marcela: I've actually never heard it before. It's really pretty. And, yeah, it does summarize what I was trying to say with the song ["Closer"] as well. I don't know why, but when I started writing the lyrics I could see [Van Gogh's painting] Starry, Starry Night. His painting came into my head. So, I started looking through the Internet, and I started reading his letters that he exchanged with his brother. He was basically explaining how he was trying to build his life as an artist and the struggle he had to go through. That inspired me a lot because nowadays he's one of the best examples of impressionism. He's so well known today. But back then, he was just like any other artist, trying to find his own voice and struggling to find that recognition.
Sara: Yeah.
Marcela: And I can really hear that in the quote as well. It's kind of like a fight somehow: what you've accomplished versus what people say. Those times when it seems like people don't understand what you're doing. So, that's what the song is about. Just trying to get closer and closer to that ideal, to what you want to become and what you want to give to the world.
Sara: I'm not sure if I'm wording this the right way, but how do you determine whether you're going to use English lyrics or Spanish lyrics? Do you listen to the music and then see where it takes you and see what ideas you come up with?
Marcela: It's kind of funny, actually. I always come up with the vocal melodies first and then write the lyrics. And when I'm recording the vocal melodies, I basically record gibberish. I'm not sure if that's the word, but it's just words I make up. And that usually tells me what language [the lyrics] should be. I let the melodies guide me to figuring out what language should be used for each part. Taking the rhythm of the words into account, and the vowels and the sounds, and realizing something sounds like it should be in Spanish or in English for me. So, I let the songs tell me [which language to sing in].
Sara: Cool! You were talking earlier about how much of the new album was inspired by your move from Mexico to The Netherlands. Today, what would you say you like the most about living in The Netherlands? Besides living close to your bandmates, obviously. (laughs)
Marcela: Well, I'm also closer to my boyfriend, which is really nice. (laughs) But, what I really like about Holland is… Well, I really love Mexico and my fellow Mexicans, but I think in a lot of ways we [Mexicans] don't really take each other in account, like in our actions. And I think in Holland, people have a way bigger sense of responsibility. People here are very respectful of each other. Like, for example, they say, "I pay my taxes – because I HAVE to pay my taxes." There's a bigger sense of community here, and a sense of "we have to take care of each other." And I think that's really, really cool. That's something I value a lot because I truly believe people should exist this way. So, that's something really great about the Dutch. They really try to take everyone into considering when they make a decision – and I'm talking about the whole country. And it's really cool. I also think they're very different. They're very honest and very direct. That's something I really appreciate as well.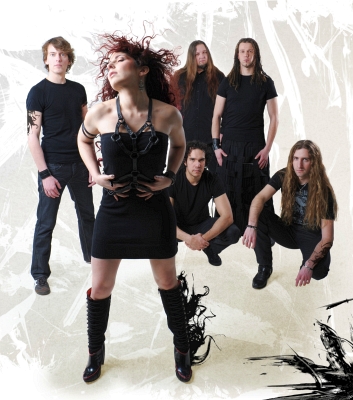 Sara: And when I was watching the videos from your recent concert with Delain, I was listening to how you were speaking Dutch, and I was like, "It sounds like she's been speaking the language her entire life!"
Marcela: (laughs)
Sara: How comfortable are you with speaking in Dutch?
Marcela: Very! I have to say, I took a small course before I came here as a help. But once I got here, I could speak a lot of it, but people would talk to me and I wouldn't understand shit.
Sara: (laughs)
Marcela: And I was very frustrated! (laughs) But nowadays, I'm really happy to say that I can establish a good conversation and follow it through. I barely have problems with understanding someone anymore, except a few times when they talk incredibly fast. But yeah, I'm really happy that I'm doing really well with the language. I also think it's super important. It really tells you a lot about how the people are, the language itself, which is really funny but also very interesting to discover. So, yeah, I'm doing quite fine. I'm very happy with it.
Sara: Cool! So, next week, you have the release party show for Darker Days. What can fans expect for that show?
Marcela: Well, we're going to play a really, really long set. We'll play basically every song on the new album and then some from the other two [albums]. I think they can expect us to be extremely excited and hyperactive onstage. We've only played once onstage this year so far, which was that concert with Delain. So, we've been waiting for this moment for half a year, and I think that's going to show onstage as well. So, we're going to play a lot of songs. There's going to be a lot of enthusiasm onstage. And if that wasn't enough, we're planning to have a little party after the show. We're going to hang out with people and maybe do some acoustic stuff.
Sara: Oooooh!
Marcela: Yeah! It should be fun!
Sara: And you've got a couple festivals coming up later this year, including Metal Female Voices Festival in October. This is going to be Stream of Passion's second time there. What did you like so much about your first time at that festival that made you want to play there again?
Marcela: Oh, seriously, it's SO amazing! I don't think we expected it to be so cool. It was so incredibly crowded, and every single person there was so nice and so enthusiastic and so looking forward to discovering more bands that they could fall in love with. It was so amazing. There's something about female-fronted metal that, I think, if you like one band, there's a very big chance that you'll enjoy more bands of the genre or bands that do this kind of music. And it really showed, I think, in the audience at that festival. They're just nonstop cheering the bands and going totally crazy and enjoying every minute of it. It's a really beautiful thing. And I also think that fans of the genre are very special. They're really sweet. We've noticed that from our fans at home, but even at this festival they're all just incredibly sweet. They really enjoy the live shows and the live experience. So, that's really, really cool. I know that I'm totally excited to be there again this year. It's really fantastic. And I think every band that's been there could tell you the same.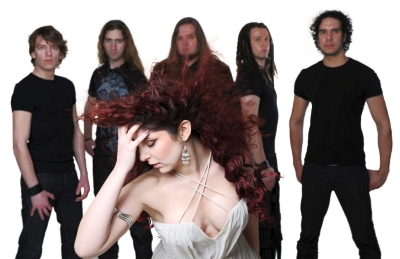 Sara: Speaking of shows, I want to go back real quick to last fall. You did a Canadian tour supporting Unexpect. How did that go?
Marcela: That was really cool! It was also totally… unexpected. (laughs)
Sara: (laughs)
Marcela: To be a little bit redundant. (laughs) It was basically put together by a really big fan that we have in Canada, and she also invited a Canadian band called Manahil. So, she basically put this together with them, with us, and with Unexpect. It was crazy. I'd never been to Canada before, and we all didn't really know what to expect from people. But, we were very surprised. [The fans] were really wild. They kind of scream and go crazy during the show. So, that was a really cool surprise. I don't know why I figured Canadian people would be a little more sober.
Sara: (laughs)
Marcela: But yeah, the shows we had were super fun. And the guys from Unexpect were super fun and very crazy. It was really cool. We did have to get used to the driving. It felt like we drove a million miles. But, it was worth it.
Sara: I have to ask this question, since I'm an American.
Marcela: OK.
Sara: Would Stream of Passion ever consider coming back to North America to play live, including the U.S.? Because I know lots of American fans – including myself – were VERY jealous when we heard about the Canadian tour.
Marcela: (laughs) Oh, it's seriously one of our big dreams to be able to go to America and discover the whole continent and play our asses off. Nowadays, it's a really big challenge for a band in Europe to get that together, to be able to do that. If it were up to us, we'd be on a plane already. We're just hoping to get the chance, take it, and go there and go crazy.
Sara: We're just about to wrap this up. I have only two questions left. First, what other plans does Stream of Passion have for 2011? Do you plan to make any videos? Are you working on any possible tours outside of Holland?
Marcela: Well, concerning videos, we do have plans for that. We're planning to film some stuff during our shows and from the backstage experience of the shows, and make a kind of documentary of the band. It's all very rough plans, but we're talking with some video people to see if we can put a couple cool things together on the Internet basically for people who've never had the Stream of Passion live experience. Concerning touring, we're working on a few possible European tours that we could be able to join maybe later this year or the beginning of next year. But there's basically nothing on paper yet, so I can't say much about it. We really, really, REALLY want to make touring as big of a priority as possible. Hopefully we'll be able to reveal more details soon.
Sara: Ah! All right. Well, muchas muchas gracias ["thank you very, very much" in Spanish] for your time, Marcela! Is there anything you'd like to say to your fans and to our readers at Sonic Cathedral?
Marcela: Well, to you guys at Sonic Cathedral and to everyone who reads the website, seriously, thank you so much for your support! Bands like us really need it, and we're really thankful for it. We just hope that you guys enjoy Darker Days when it's out, and hopefully we'll see you soon on a stage near you!
Many thanks once again to Marcela for her time. Best of luck with Darker Days and all the promotion and tours that may follow – and we hope you make it to United States very soon! Also, our sincere thanks to Ben and Nate at Napalm for helping us arrange the interview.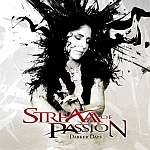 Check out Stream of Passion at the following websites: