Midnattsol Interview 2011
Performed in May 2011 via Skype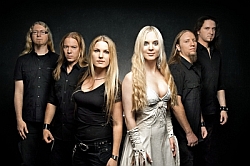 The Metamorphosis Melody (Napalm Records), the third full-length album by Nordic folk metal sextet, Midnattsol, sees vocalist Carmen Elise Espenaes singing with more authority and emotional depth to her voice than ever before. Sonic Cathedral was privileged to get to know Midnattsol and follow their trajectory, from a fledgling band to a force to be reckoned with. Sonic Cathedral's Robin Stryker chatted with Carmen about Midnattsol's professional and personal metamorphosis, what REALLY goes on after the show, and much more.
Robin: Hello, Carmen, and welcome to Sonic Cathedral webzine! We're so happy for the chance to talk with you today about Midnattsol's new album, The Metamorphosis Melody. How are you today?
Carmen: Hi, thank you so much for having this interview! I've been looking forward to this for such a long time, speaking with Sonic Cathedral is always such a pleasure, you're so professional and treat the musicians in such a good way. I just came home from an Amorphis concert yesterday, a couple of hours away from here. It was AWESOME, we were banging our heads off!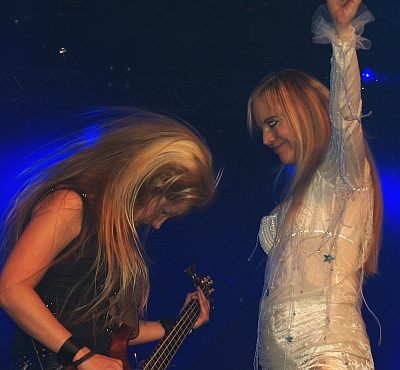 Robin: Even more awesome than that, Midnattsol just returned a week ago from the first tour of The Metamorphosis Melody, where you opened for Leaves' Eyes. I believe that may have been the first time you toured with your sister, Liv Kristine. Would you tell us about the tour?
Carmen: It was even better than expected! We talked about it before we traveled, that perhaps we would get on each other's nerves after a couple of days (laughs), but it was just awesome. We even enjoyed sitting beside each other in the bus with such narrow space, we just had so much fun joking around. It was also such a good feeling FINALLY playing the new songs live and showing them to our fans, after a long period of time working with them during the song writing process.
We had also a lot of fun with the guys in Leaves' Eyes. They are so cool and funny! (laughs) Especially the last night in Italy was a memory for life! I sang a couple of songs together with my sister, called "Kråkevisa" and "Sigrlinn" from the new Leaves' Eyes album, like the other days. On the last song "Sigrlinn", I turned around, and then I suddenly see my whole band standing behind me, banging like hell! That was so cool, together we ROCKED the stage, and the fans went crazy. Afterwards, we hugged each other and thanked everyone, so it was such a magic moment for all of us. In the van back to the hotel, at around four o'clock or something in the night, we thought: "What will it be like going back to work again?!" Like you perhaps know, everyone works 100% besides Midnattsol. We didn't want it to end, and wished that we could have driven straight to another gig.
And coming back to work on Monday morning was a big shock for us all. I was like: "How do I do this?" (laughs) You really miss the ones who have been around you 24/7 and all the jokes. And suddenly everything is like A-4, totally normal, a very strange feeling. I can imagine people going on tour for months getting a bit depressed or feeling lonely afterwards if there's a long period of time until the next concert. Luckily for us, there were only two weeks, and then we could enter the stage again, we are so looking forward to rock again!
Robin: Right, because you have some festivals coming up, including one (I think) this Friday the 13th. Is that right?
Carmen: Yes, this Saturday the 14th actually, at the Durbuy Rock Festival in Belgium, again together with Leaves' Eyes, Atrocity and other cool bands like Korpiklaani. Then we'll play for the first time ever in Hungary, at the Metalfest in June. It will be a great experience to finally meet our Hungarian fans! And we are also coming back to Metal Female Voices Festival in Belgium in October, we're so looking forward to playing there again! You know, it's kind of a historic festival for Midnattsol, it feels like coming home. We see the same people again and again, the atmosphere is always fantastic, not to mention you guys and the crew! (laughs) What a party we had there last year, this time will surely rock like hell too -- new songs, new merchandise and also a new guitarist!
Robin: Getting back to The Metamorphosis Melody, I'm curious about what the title refers to because the word "melody" has a soothing feeling to it, but "metamorphosis" always has a painful change aspect to it.
Carmen: I think it's good that you ask these questions, because I think it's a bit boring with a title that you know EXACTLY what it means. I think it's good when every listener can make up its own mind and reflect what The Metamorphosis Melody means to them, not only the title, but also the cover and the new songs, they are like a connecting circle. The title refers to different kinds of things. One of the main things that the title stands as a symbol for is that we have changed as a band. The music has developed, you could say that we have gone through a metamorphosis ourselves in Midnattsol. And one of the reasons why we think that, is because we have gotten a new band member, Alex [Kautz, guitar]. It's kind of strange because he came as a totally new member, but he sounded completely like Midnattsol. When he came into the band, the atmosphere in the band got so much better, it has never been so great before, and we play together in a whole new way. After he got into the band, we got fully motivated to write new songs. We had a new path that we were heading at together, it was like a new beginning for the Midnattsol.
Another thing that it stands for is that our personal front has gone through a lot of changes. I've asked myself if this is just convenience or if it is perhaps the age we've reached. (laughs) We have gone through different phases, and some have gotten a new job, some have found the love of their life, some have experienced people dying for the first time also. These experiences and thoughts have influenced the music and the lyrics on the new album.
And another thing that it stands for is the actual situation today, globally spoken. I think that something has to happen, something has to change in this world, it can't just continue like this. All in all, there are different factors that it stands for, and I hope the title as well as the whole album can inspire the listener to a certain development themselves.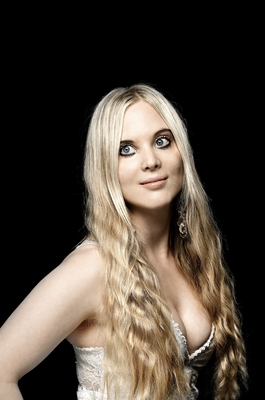 Robin: I understand that, in addition to Alex, you have another new member of the Midnattsol family, Matthias Schuler, who joined you when -- shortly before tour?
Carmen: Yeah, after Daniel Droste left the band, we had to go through another application process within a short period of time, but it was very fruitful, because we found Matthias! We were pretty sure that he was going to be our new guitarist, but we wanted to go on tour together first just to be on the safe side, also for him (laughs) "Do you really want to do this to yourself? Two weeks with us?" But it didn't last long, just a couple of day, before we all were 100% sure that he was meant for Midnattsol, we couldn't have found a better replacement. So we decided in Frankfurt in Germany -- where lots of his people were coming -- to tell him on stage that he was from now on an official member of the band. It was such a great moment! He was totally surprised, he didn't know anything about it, and the audience went crazy. It must be quite strange for him too, to suddenly get this much attention. But he handles it so well and is born for the stage! Actually, he is the youngest member of the band, and it's so cool to see that so many people want a picture of him, they don't want pics of us anymore. (laughs) No no, I'm just kidding!
Robin: (laughs) I KNOW that that's not true. But I have to admit that I had a giggle reading Lisa Middelhauve's tour report from the night that Serenity also gigged with Midnattsol and Leaves' Eyes. Something about a little impromptu pole-dancing that first night?
Carmen: That was really, really funny! I think it was after our second gig of the tour, in Enschede in the Netherlands. Lisa was dancing and then she said something like: "Come over, Carmen! Show us what you've got." I just jumped into it and did it, I'm quite spontaneous. A couple of people didn't know what to say or where to look, some other ones were taking photos like crazy (laughs). We had so much fun together on tour, Lisa and I are very similar in many ways. We talk a lot and are very open-minded, we're not the shy kind of persons, but I guess you know that by now. (laughs)
Robin: I was hoping to find a You Tube video of some of the after-party activities. (laughs)
Carmen: I have to admit that I was not hoping sooo much for it. (laughs)
Robin: I'm sure if there had been a video, Lisa would have posted it. So, darn! One of the things that struck me about The Metamorphosis Melody is how different your voice sounds, compared to Nordlys. What changed?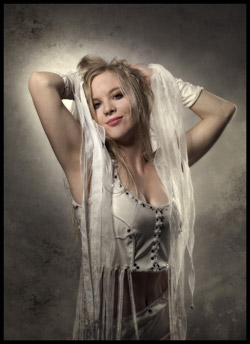 Carmen: It's difficult to say what exactly happened, I'm not sure. Sure is that on this album I felt that I had more possibility to choose. How do I want to sing here? How do I want to sing there? It was so great to feel that I can sing what I want to and how I want to. I didn't feel like that on the first album. And having this freedom, I looked upon every song and tried different things out. At the end we also discussed together in the band: "What is the best thing to do here?" I didn't think to myself: "Oh now I have to change something, or I have to take singing lessons or something." I was just singing, and the thing that I wanted came out.
Actually I didn't realize that my voice had changed that much before my OWN mother said to me, "Carmen, what happened to your voice? Something has happened." Because she's not into professional singing. Then I thought to myself, "Oh yeah, you're right. It has, it's totally different." I'm very happy with my voice now, I can vary between soft and more operatic vocals, higher and deeper tones. I have the possibility to choose whatever fits to the music, and that's the most important thing. The atmosphere and what I want to express are deciding, and I vary the type of the voice thereafter.
Robin: It seems as though Midnattsol might have had the luxury of being able to take some time in the recording studio, with the process taking from late May until mid-July 2010. Did you feel like you had more time in the studio to get the sound exactly the way you wanted?
Carmen: Oh, I can promise you, we didn't have much time (laughs) The reason why we had these different times was that we wanted to go to this one studio together, and we got this time to do it, it wasn't possible to do it in one row. And I have to say that I was quite happy for it, because we stood under a huge time pressure during the songwriting process, and all the instrumental parts weren't finished until straight before the recordings. So after the instruments had been recorded, we did the last fine-tunings on the vocals and the lyrics, and then it was my turn to record. I would love to have more time, but we just didn't have the possibility. But even so, we were really thrilled over the result! Everything went so fast and we hoped and prayed that everything would go like we wanted. But in the end it was even better than expected, so it was an awesome feeling listening to the finished songs for the first time.
When we talk about time pressure, there was this special situation in the studio. On the former two albums, I have always known exactly how to sing the songs. But this time, on one song, I didn't know 100% for sure before recording with which kind of voice I wanted to sing with, soft, powerful, classic also. I didn't have the time, because one of my family members was very sick, and I feared that she was going to die. So the time that I wanted to use for this song was gone because of the hospital time. I thought that I was just going to do my best and stood in front of the mic and started to sing, and our great producer Markus Stock was like, "Perfect." And that was it. So despite limited time, everything went well!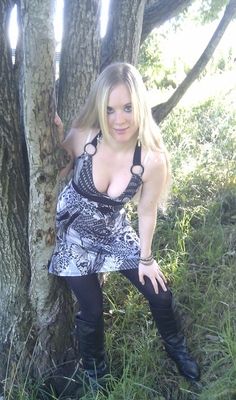 Robin: Okay, you can't tease us. Which song was it that you didn't exactly know how you were going to sing it until you actually stood in front of the mic?
Carmen: It was "Forvandlingen," one of the two Norwegian songs. I hope of course that the fans like the kind of voice used as well!
Robin: I love the song -- and you'll laugh at my pronunciation, so I'm sorry in advance -- "Kong Valemons Kamp." There, I said it in a horrible Yankee accent.
Carmen: Camp is really cool, caaaaaamp. Like a school camp. (laughs)
Robin: Is that actually a Norwegian fairytale or a story that you made for the song?
Carmen: It's a Norwegian fairytale, called "Kvitebjørn Kong Valemon," a very beautiful and also sad fairytale, one of my favorites. It's a prince who is spelled into an ice bear by a troll hag. There's this girl, and he falls in love with her. Of course, that's not so easy, because he is an ice bear. And the troll hag tries to destroy everything for them. I'm kind of retelling the Norwegian fairytale in this song, and the title means "King Valemon's Struggle." So what you say as "camp" is like a struggle or fight.
Robin: That really is such a lovely song. When you are singing live, which song off of the new album do you have the most fun singing?
Carmen: Oh that's so difficult to answer! That's very, very difficult. Hmmmm ….
Robin: You can pick more than one.
Carmen: You know, I love the variation, like the rest of the band. We have done some variations on tour, because we love all our new songs and want to play them live. It's very difficult to pick one, because they are all great in their special way. But if I have to pick, I would choose the song that you mentioned, "Kong Valemons Kamp." I really love that song, it starts powerful and rocks like hell and ends with a beautiful calm part, so you got everything in this song. It's also great to see the reactions in the eyes of the fans, it's a favorite of many people.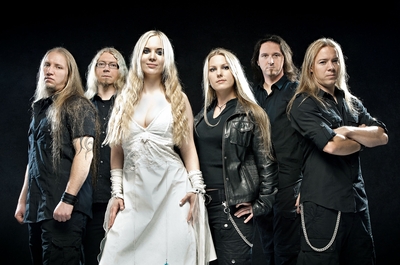 Robin: For fans, that was the first song we got to hear off the new album.
Carmen: Yes, that's right, and a cool thing is that the lyrics in this song was actually quite challenging for me, due to the fact that the whole fairytale should fit in the song. And still, I didn't want it to sound too boring. The Canadian journalist, Carl Begai [Brave Words & Bloody Knuckles] helped me a bit with these lyrics, and I'm very glad for it. That's one of my best writings, and I felt that my writings developed. I actually think the whole package of the song, the music and the lyrics together, make out one of our best songs till now.
Robin: When you are writing lyrics, what is your perfect environment for inspiration or does it just come when it comes?
Carmen: One of the typical inspirations is when I am out in the nature jogging. (laughs) When I'm running through the woods or walking and this pure nature with a lot of green trees surround me, or when I run to the top of the hills and I look over wonderful nature, then often melodies together with lyric parts come to my head. Other times personal experiences are the inspiration, like on the song "Goodbye." I got a phone call and when I hang up the phone I felt so sad and automatically started to sing the beginning of "Goodbye." It wasn't 100% of the beginning, but it was the basics, so to say. I sang this little part over and over again during the whole night while crying. And in the morning, I just felt so relieved. It was kind of a therapy, and I decided to keep the song. It was a couple of years ago and one day I thought: "Okay, I need to do something about this. It's so emotional and such a big happening." And it turned out to be one of the songs that people mention in the reviews as their favorites. It's kind of cool, because it's not very complicated and I didn't use a lot of time writing it, it just came out of me. (laughs)
When it comes to the musical influences, there are a lot of different factors, because all of the members are involved in the musical songwriting process and bring their individual influences into the song. It can be a song, a special experience, or suddenly there is this magic moment in the rehearsal room, and we just play together and there is the beginning of the song.
Robin: Do the band members live relatively close where you can all get together to jam, or do you need to plan far in advance for everyone to be able to come together?
Carmen: The second one, because I live in Norway and all the other ones are in Germany. After I moved back to Norway after the second album, there has been a change in the songwriting process and during the rehearsals. We need to plan in order for me to book the ticket, but it goes quite well actually! Of course, I can't come every week because I'm working (like the other ones), but I'm still coming regularly -- at least once a month -- and then we rehearse several times and try to find time to a bit of celebration.
Robin: It looks like the members of Midnattsol really, really like each other and have a great, playful time together.
Carmen: Yeah, that's right, we are at this stage now, and that's also the reason for the title, The Metamorphosis Melody. Something has changed inside the band after Alex became a member of Midnattsol, we have become very close friends. You can't imagine your life without them anymore. We are having so much fun, and if there is a problem, we talk about it, which I think is very important. It hasn't always been a bed of roses during these nine years, I guess that's for no one playing in a band. But right now, it is just fantastic, and it was the right moment to go on tour, being so good friends and having this great atmosphere in the band. I can't describe it with words, and I know that the other ones also feel the same. We also communicate a lot. With the technology today -- with Skype, with Facebook, with emails -- we have the possibility to talk a lot, and I think that is also a key to a good band. Communication.
Robin: What is your fondest wish or biggest dream for Midnattsol over the long term?
Carmen: I hope that we will reach out to even more people, that's one of our goals. And also to develop our musical skills even further, we want to get better and have this eagerness inside to better and make even better albums for each time. One of our dreams is also to go on tour with Amorphis. You know, we have been fans since we can remember, so that would be awesome! I thought about it while watching them yesterday: "Oh, that would be so cool!" (laughs) We hope that we can continue with what we are doing for a very long time, and that we can play on different stages all around the world, not only Europe, but the U.S.A., South America, Asia also.
Robin: Carmen, thank you so much for taking the time to talk with me. Do you have any last words for your friends and fans at Sonic Cathedral webzine?
Carmen: Yes, I want to say thanks a lot for your support! You're such good people at Sonic Cathedral and I'm looking very forward to again seeing some of the SC Staff and our devoted fans at Metal Female Voices Festival in October. We have to have a beer or two and chat together. I hope you and the fans out there like our new album The Metamorphosis Melody, enjoy!!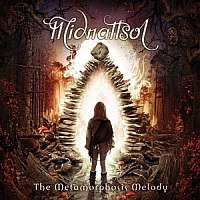 Check out Midnattsol: