Frozen_Angel chats with one of the premiere vocalists of the female fronted metal scene, Ex-The Gathering vocalist Anneke van Giersbergen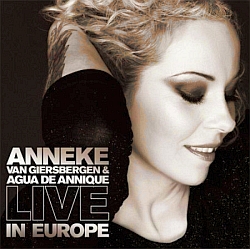 Interview performed in person in January 2011
Thessaloniki , Greece
Sonic Cathedral staff writer Frozen_Angel spoke with Anneke van Giersbergen shortly before Anneke's acoustic show in Thessaloniki, Greece on January 7, 2011. The two ladies discussed Anneke's new band (Agua de Annique) and their new live album, as well as the band's current tour, Anneke's old band The Gathering, her future plans, and some personal stuff. Anneke was an open book and answered every question. Don't miss a word!
Frozen_Angel: What about your fourth album, "Live in Europe"? Tell us a few things about that.
Anneke: Well, it's a live album, and we recorded it in France and Spain. We recorded a few shows, and we took the best songs out of all the shows. We made a live album because [the recordings] actually turned out really well. The studio albums normally have more details. It's a totally different thing from playing live. Live is more simple, up-tempo, and rock, in our case. And the songs turned out a little bit different, more pure and with more energy. I wanted to record those songs live because it's different, and people also seemed to like it.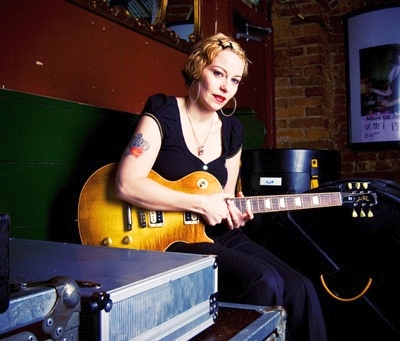 Frozen_Angel: You have stated that "In Your Room" is your most personal album. What makes that album so personal?
Anneke: I wrote it when I was at home, and normally you write a lot of songs while you are away and you have [a] different atmosphere, and then you put all those songs together for an album. This year, I was a lot at home. We were building the studio, we were a lot at the same place, so there was not a lot of stuff from outside to "feed" me for the songs, and I had to get a lot out of my head. That's why this album is so personal, but there are some light songs like "Hey Okay." There is no deep meaning in that album, so it's personal but not dramatic.
Frozen_Angel: When you left The Gathering and announced your new pop/rock music project, many fans were skeptical. When the video for the song "Day After Yesterday" was released, it was obvious that you wanted to create a more romantic/beautiful/emotional-based project. Is that true?
Anneke: It's a good question because I have no answer! (laughs) I didn't think about these things when I started doing music on my own. I always think that I create the same songs as I did when I was in The Gathering, songs like "Shrink" or "Alone." It's kind of the same music, but it is worked on a different way. Of course, there is a big difference now from the early days! But it is also because I feel different because every year I have new influences. For instance, "Air" is a bit darker that "In Your Room," which is a dry pop album. I just felt like making it. I like the songs. They are my songs, and I wanted to make an album like that. Now I am working on a more heavy album, more up-tempo.
Frozen_Angel: That sounds very good!
Anneke: Do you like it?
Frozen_Angel: Yeah! Of course!
Anneke: I like it, too. I don't feel the same every year, so I create different things.
Frozen_Angel: That's true!
Anneke: And I love it. And I know people were skeptical, and I could feel it. People told me (using a scared voice), "I don't know!" And you have every right to say that because you don't have to like it. But people also now realize that I am here to stay. Maybe sometimes they think, "She will make one album and then she will go away." But I feel that they are taking me more seriously now after four albums. It's a nice feeling, and I am taking this very serious. Every year, I just make a different album, but I am collaborating on them.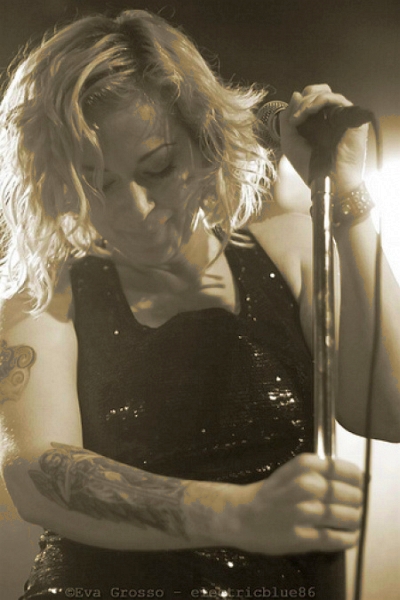 Frozen_Angel: Yeah, every year a different style!
Anneke: Yeah, that's true. I write a lot of songs. I write soft songs and pop songs and rock songs, but I also write in my own language, in [the] Dutch language, and I have many ideas. Sometimes I see ten songs and they can fit together, and I say, "OK, let's make an album." That's how I work. I never think about it. I just do it.
Frozen_Angel: Did the fans and the press accept warmly your new project? What kinds of feedback have you received from the public on Agua de Annique? Were you afraid of failure, that fans may not like your new music?
Anneke: When I first started with Agua de Annique, I had no idea if people [would] like it or not. So I just didn't think about it. I just make what is in my heart, and if I think that it is good, then there must be people out there who will like it. If it is honest, you can feel it. Due to the fact that every album is different, now people who like me they have their favourite album. For instance, some people like "Air" very much, and other people like "In Your Room." In Holland, it works really well for me to make this kind of music [pop music]. Sometimes in different countries, it is better to make dark music or it is better to make pop music. Finally I realized that a lot of people really like it, and I am very happy with that.
Frozen_Angel: In many interviews, you talk about your good memories with The Gathering, and you have also stated that you would be very happy to work with the band again. Is this true? Do you still keep in touch with your former band mates?
Anneke: Well, we are not very much in touch. Just a little bit. This is very nice, but it is too soon to talk about a reunion because we have our own things going on now.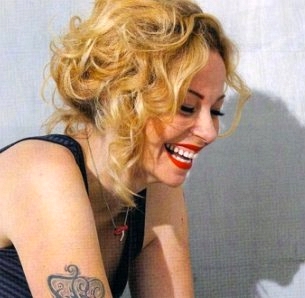 Frozen_Angel: It's like a "tradition." I mean, the reunion thing…
Anneke: Yeah! I know.
Frozen_Angel: You or Tarja [Turunen, formerly of Nightwish] or Vibeke [Stein, formerly of Tristania].
Anneke: I know why. Because those bands, and also The Gathering, have made a bit of a mark in the sea. And people of course love the old stuff, and I do, too. In 10 or 20 years, we might be a little bit older, our kids will be grown up, and we would say "OK, what the hell?" But for now, we are very far from that. We are doing our own things.
Frozen_Angel: Many people say that The Gathering's "Mandylion" was the album which began the whole female-fronted metal genre. What are your thoughts on this? Do you agree with it?
Anneke: I agree with it. We were one of the first bands to combine female vocals, and we have few of those bands all in the same time. And I know that "Mandylion" is, if I can say so myself, a classic. In that time, there was nothing like that. The funny thing is that we were spontaneous. They were looking for a singer, and I happened to be a girl. And they didn't think, "We should have a female vocalist." They just thought, "We have to have a good singer". Then this thing emerged and became a quite big thing, and I am so proud of it. A lot of goods came out of it, a lot of good bands.
Frozen_Angel: (laughs) Yeah, after that, there was like an "explosion" of female bands!
Anneke: I know! A lot of vocalists! In those days, there were not a lot of female vocalists in heavy music, but also female journalists, like yourself, in heavy metal or rock music magazines, or female lighting technicians. The females emerged, and I really like that I infected [the scene].
Frozen_Angel: It was like a revolution.
Anneke: Yeah! And I am really happy to be part of it!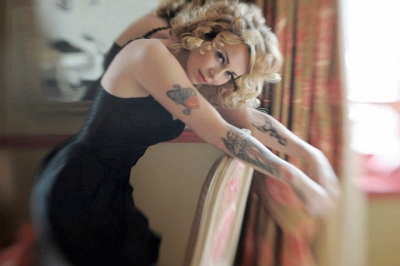 Frozen_Angel: During the songwriting process for Agua de Annique, do your bandmates help you or give you any ideas? If so, how? If not, why not?
Anneke: Yeah, they do! Bu normally, I write. I write the music, and when it is almost done I give the songs to the band and they make them better. They are good guitar players and bass players, and my husband is a very good drummer as well, and they make them just better. In the studio, they add a lot of ideas. Now I am actually writing with some other people as well. So this is different. That's why it is going to be different again. A whole different atmosphere comes when you write with two or three other people. Normally I would just make the song and say, "Here it is, you can play it," and they improve it. It is very different then. I like writing by myself, but they give me new ideas. If I hear the music of somebody else, I say, "I can do this and this and this on it." So they contribute a lot in the songwriting process.
Frozen_Angel: Have you ever thought about writing lyrics on religion or social issues? Are there any topics you would like to write about in the future?
Anneke: I am not sure. I am not such a political person, if you can be that. I like more the day-to-day stuff. It has to do a lot with my heart and my thoughts.
Frozen_Angel: Yeah, more emotional stuff.
Anneke: Yeah! I think so. I am not very political minded. Of course, I do have my opinions, but I am not the one who will point out "you should think this." Like Pain of Salvation, they have really big lyrics about political things, and I like to listen to it, but I would never write [songs like that]. I don't really think about it. And there is always a dangerous factor in that. People maybe would think that you tell to the others what they should think, and I don't like that. I like things to be open and for you, the listeners, to see your own self in a song; but when it is political, it is good or bad. I find it very difficult to write about that kind of things.
Frozen_Angel: You are playing six shows in Greece during your current tour. Some of the shows are even in small towns. How was this arranged? Did you pick the cities and the towns for this tour?
Anneke: No. We have promoters and managers who arrange our shows.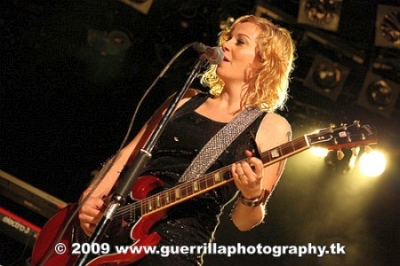 Frozen_Angel: It is not very usual for a band to go and play in small towns.
Anneke: I know. We are only two people, so it is easier. It has to do with transportation and logistics and money. Bands always want to play everywhere.
Frozen_Angel: Yeah, you have played even in small bars!
Anneke: For two people, it's OK. But for a band, it is more difficult to play in small places and towns. We have booking agents and promoters, and they deal with that. They pick the cities and the places. It's all about money and how we will get there.
Frozen_Angel: When we saw [the tour dates and the places], all of us wondered, "What the hell is going on?" They are small towns, and you are a "big" name in Greece.
Anneke: Yes, but people live in small towns, and they like our music. I really liked Xanthi. It is a beautiful town, and I have never been there before. With The Gathering, we had played only in the two big cities [Athens and Thessaloniki] and only once in Larissa. [So this time,] I was happy to go around in Greece and see all the cities. I couldn't really do sight-seeing but I got a small idea from the windows of the tour bus. We met different people, and I really enjoyed it. You have to know that when a band doesn't go to play in small cities, it has to do with logistics. The band always wants to play. Sometimes people get angry, and they say (in an angry-sounding voice), "Why you are not coming to play in my town?" Sometimes I put on my Facebook phrases like "Greece is great," and then people say (again in an angry-sounding voice),"Come to Mexico!"
Frozen_Angel: Which vocalists, male or female, do you admire the most?
Anneke: That's a hard question! I like male vocalists. My favourites are actually male. I love Freddie Mercury, Prince, Mike Patton. From female vocalists, I love Kate Bush.
Frozen_Angel: You are not so into soprano vocalists, aren't you?
Anneke: No, not really.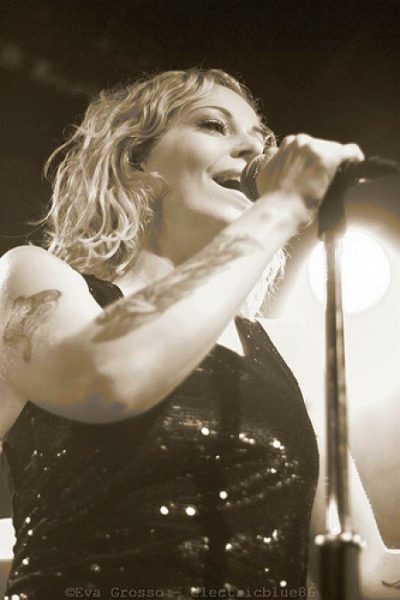 Frozen_Angel: I have read many interviews of yours, and I have noticed that. You like "classics" like Freddie Mercury.
Anneke: Yeah, actually I do. Those are the big and immortal vocalists of pop and rock music. But I like classical music as well.
Frozen_Angel: Everyone likes them.
Anneke: Yeah, because they are that good.
Frozen_Angel: Which albums or songs by other artists are you "stuck" on lately?
Anneke: I always love to listen to The Beatles, again a "classic." It never gets old, it's always beautiful. I listen to Faith No More for a long time and bands like that. I also like black music like Marvin Gaye and Diana Ross. I really love the old black music.
Frozen_Angel: Apart from being a successful singer, you are also a mother. How do you feel about leaving home and touring all over the world? How does your family feel about this?
Anneke: Well, of course, I miss them very much. But singing and touring is my way of making a living. I make money by singing. This is my job, and I feel very responsible. I never do a show for nothing. I always think if it is nice to do it or if it is charity or if it doesn't make money. I have to feed my children. I never do anything just for nothing. I think about it carefully. Like now, I am two weeks away, which is a long time. Normally I am not away for that long.
Frozen_Angel: And your husband tours, too.
Anneke: Yeah, many times. Our son stays with his grandparents. But with Agua [de Annique], we don't tour a lot.
Frozen_Angel: It is not like with The Gathering.
Anneke: No, not at all. Only a week here or a week there, or a weekend.
Frozen_Angel: I have read in an interview that one of the reasons you left The Gathering was your family and the lack of time because of the long duration of the tours.
Anneke: That's true. In Holland, I play a lot of shows. But Holland is a small country. I can go to any city and play and drive home at night. If I play or have something to do in the afternoon, I always take my son with me. We try to combine it. I miss them very much, but I still love singing and being on tour. You always have to make it very carefully.
Frozen_Angel: If you have to pick your top favourite The Gathering and Agua De Annique songs, which ones would you choose? Why?
Anneke: Good question! I really like "Shrink," and I will play it tonight. Also, I like "Travel." There are so many! I like "Strange Machines" because it is a happy song, and it was a hit for us. I have good memories from that song. OK, two more, right?
Frozen_Angel: Just your top songs. It doesn't have to be your top five. Whatever you want.
Anneke: I also like from Agua….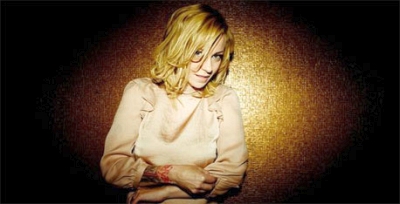 Frozen_Angel: What about "Beautiful One"? It was written for Athens, right?
Anneke: Yes! It was written for Athens. That's true!
Frozen_Angel: You love Greece, right?
Anneke: Yeah. I love your country.
Frozen_Angel: In your official site, you have a whole section with photographs from Greece.
Anneke: Yeah…
Frozen_Angel: That's an honour for us.
Anneke: That's nice. You are nice people. You are very warm, open, and welcome people. I know that Thessaloniki and Athens are big cities, and it is hard to live here and life is hard. Every time we visit Greece, you are always warm, and that make us feel very well.
Frozen_Angel: That's all I had to ask you. Thank you very much for your time. Do you have anything to say to your fans and to our readers at Sonic Cathedral?
Anneke: Actually, I am super-busy preparing a new album. I hope in May my first new single will be released, and later on my whole album. I can tell you that it is going to be a really good album. I have a good feeling about it. I hope that everybody will check it out when it will be released.
Many thanks to Anneke for her time. We at Sonic Cathedral look forward to her upcoming album. Also, special thanks to Zisis Petkanas and webzine Rockoverdose
Learn more about Anneke at the following online links: