The Mariana Hollow - Exclusive
Velvet Black Sky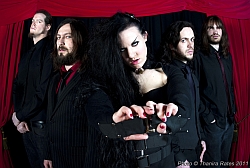 Sonic Cathedral's exclusive preview of the upcoming second album by UK alt-metallers The Mariana Hollow


Last year, Sonic Cathedral discovered one of the United Kingdom's most promising female-fronted bands: The Mariana Hollow. Their blend of alternative and progressive metal with dynamic guitars and the engaging voice of Rebecca "Spinky" Spinks had made them one of the most-talked-about unsigned bands in their country's metal scene. And 2010 was a pretty good year for The Mariana Hollow. They released their debut album, Coma Heart, through Plastic Head Distribution, and played numerous shows in the UK with bands such as Lacrimas Profundere, To-Mera, and Theatre of Tragedy.
The Mariana Hollow is not a band that rests on its laurels, though. In between shows, its five members worked hard at writing and recording songs for their second album, Velvet Black Sky. This album is now nearing completion and will be released later in 2011. We at Sonic Cathedral, however, are the first to listen to the final versions of some of the new songs!
This is what The Mariana Hollow had to say about Velvet Black Sky:
"These 11 songs (which we're beyond proud of) are the culmination of 18 months' concentrated writing and performing. Some felt right almost instantly, whilst others took weeks of sweat and determination in our practice space to come alive. There's a united sense of achievement around TMH as we've collectively shaped the direction and feel of the songs. Danny [Russell, lead guitarist] saw through the lion's share of the trickier births from his producer/engineer's seat, and Brett Caldas-Lima has been brought in to mix the album. We love Brett's production on To-Mera's Transcendental record, but he's also worked with Arch Enemy, Megadeth, and Whyzdom. We're definitely in capable hands!
"We strove for greater musical and emotional depth this time round, and we feel we pulled off an album that's simultaneously more immediate yet deeper and more intense than Coma Heart. The songs are the most personal and honest we've ever made. We poured ourselves into it, and you can hear and feel this throughout. It's a cliché perhaps, but not an exaggeration to say that these songs kept us going through some dark times; the writing and recording coincided with major relationship break-ups for many of us. Spinky's lyrics have reached new depths of insight and beauty on this album, and while some of the songs talk about the emotional and spiritual bankruptcy around us, they're doing it in a way that offers hope and positivity for those who hear it.
"We are thrilled to be able to present some of Velvet Black Sky to Sonic Cathedral as a preview! Thank you for your continued support of good music, and us!"
Without further ado, here are the songs that The Mariana Hollow presented us for this Sneak Peek of Velvet Black Sky.
"Your Halo"
And BANG! Our first preview track, "Your Halo," kicks off with a punchy riff hook that enhances the beat. Right away, I can tell this midtempo rocker is more in the vein of Coma Heart's heavier songs, which The Mariana Hollow had said was their intention for Velvet Black Sky. The overall rhythm of "Your Halo" is contagious; I've often found myself tapping my foot or "dancing" in my chair when I listen to it. The song's driving force, however, is Spinky's voice. She croons the calm verses and cries out with fierce emotion during the chorus. Spinky also uses her high end of her range a lot in this song. Some vocalists' high notes can soar or (in less desireable cases) sound like nails on a blackboard. Spinky's, however, are gentle and tender. They add depth to the song without softening its bite. This balance of musical contrasts is what makes The Mariana Hollow's music so interesting, in my opinion.
This Sneak Peek is already promising. I wonder what the next three songs will be like…
"Dead Reckoning"
"Dead Reckoning" is a deceptive track – which is why I like it so much. The mood at the start is complex yet atmospheric, a tone that reminds me of Anathema's music. This mood is maintained throughout the song, from Richie Walden and Danny Russell's twin guitars, to the coasting rhythms as the full band comes in. The verses are calm, and peppered with guitar nuances. Then change sneaks in. Spinky's tart voice climbs with the riffs as the chorus nears, and the entire bridge swells like a wave racing toward shore. The chorus then returns to the easygoing pace, but with increased melancholy and angst. The two latter feelings are emphasized by Spinky's lyrics: "You became an illusion / And it took my heart to the brink." The song's intensity peaks during the breakdown before the final chorus. Danny's solo is almost too brief, but then his guitar creeps up under Spinky's voice and wails along with her. It's the perfect ending for a song you'd never expect would keep you guessing.
"Stand Your Ground"
One reason why I like The Mariana Hollow's music is because they make intelligent, creative ballads. They're filled with details that make them just as interesting as the band's heavier songs. "Stand Your Ground" is no exception. At first it's peaceful, with lilting guitar chords and Adam Stanley quietly tapping on the drums. Spinky's verses, complemented by Adam and Richie's warm background vocals, are also tranquil. Then the metal cranks up for the bridges and refrains, and "Stand Your Ground" stirs into a power ballad. The lyrics touch on a universal topic: Holding tight to one's beliefs or goals, no matter the obstacles. ("Set your sights a little higher / We're waiting for you at the top / … Dig your heels in deeper now / Time is slipping from us all / Stand your ground") Danny closes out the song with a rousing solo that cuts out as the music goes quiet. And then a train whistles in the distance… It adds a hint of mystery and makes this slow-burning anthem even more moving.
"Weight of the World"
WOW!! Talk about saving the best for last! Quick guitar lines begin the song and then slip under forceful riffs and a loose midtempo beat. This is yet another example of The Mariana Hollow's keen sense of musical balance; the louder riffs grab your attention, while the softer chords act as a subtle, almost teasing undercurrent. The rest of the song is musically intense, with its moments of contrast. Where "Weight of the World" soars, however, is the chorus. Its melody fits the tempo like a glove and is already memorable on its own. Spinky's full-force vocals then make the chorus even more powerful. I bet that's why this song was stuck in my head after listening to it once. Yes, that's right – only once. If "Weight of the World" is chosen as one of the songs to promote Velvet Black Sky, it will surely put The Mariana Hollow on the map.
All in all, this Sneak Peek at The Mariana Hollow's Velvet Black Sky does what any good preview should do: It leaves us wanting more! The four songs we've heard are strong and full of character, and the band's sound has evolved in a natural, exciting way. So keep your eyes and ears open for The Mariana Hollow. We have a feeling that, with Velvet Black Sky, this band will bring in a breath of fresh air and leave an indelible mark on the metal scene.
Want your own sneak peek of The Mariana Hollow's next album? Head over to the following sites to listen to or download a sampler of new songs. And stay tuned to The Mariana Hollow's sites for news on a free track from Velvet Black Sky!
Band photo appears courtesy of Thanira Rates