MFVF XII – Day 2
@ Oktoberhallen Wieze (Belgium)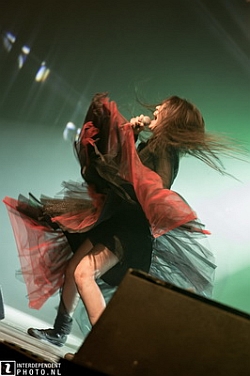 Although it was early after the partying I managed to get to the venue on time. As I could use the backstage entry, I didn't need to go into the queue in front of the doors. It was not bad there because the sun was shining. There were fewer people than I can remember from previous editions but still a nice number so early in the morning (10AM), great for the small bands that open the day. Being in the empty venue before the doors open, it's great to see the crowd getting in for a long day of Female Fronted Metal.
The Dutch band La Ventura opens the day. They released their second album White Crow earlier this year and will have now the opportunity to present their music to a larger audience. They played on FemME some time ago but due to a lot of other activities I was hardly able to hear/see them. Now I could catch up. For this event they added two big Taiko drums to the standard setting. For sure it added value to the already mature sound. With Carla van Huizen, La Venture has an impressive front lady. A strong and clear voice that matched the gothic metal La Ventura brings. It's hard to open a festival but nevertheless they offered a good show to the growing number of visitors. The set was closed with the premiere of the video clip "Song for an Idiot". Of course with the remark that it was not their thoughts about the audience.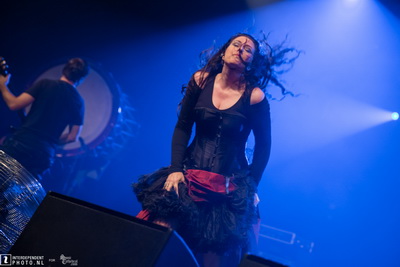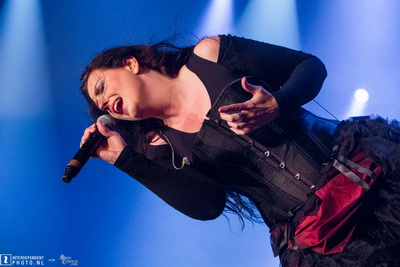 Season of the Ghost was performing for the first time. During the set their uncertainty got less and their enthusiasm more than compensated this. Singer Sophia Aslanidou (ex - Blood Stain Child) entertained the crowd. The energetic electro metal with danceable songs helped. Although still early the crowd started to move and got more awake.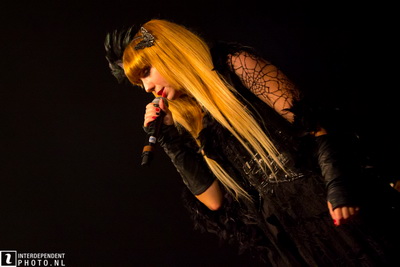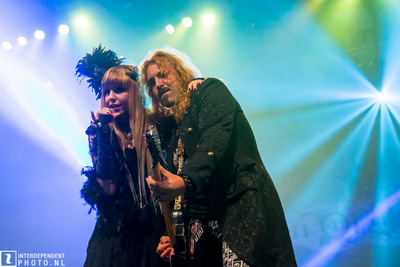 Next one up is again a first appearance on stage. For Sarah Parviainen (ex - Amberian Dawn) not really, but for the solo project Dark Sarah it was. She can look back on a reasonable good crowdfunding campaign for the album Behind the Black Veil and is happy the share the result now live. The atmospheric metal with great clean vocals is brought solid and tight. An excellent premiere on stage, the duets with Zuberoa Aznárez (Diabulus in Musica) on "Memories Fall" and "Evil Roots" were impressive. The voices match very well and generated enthusiastic reactions in crowd. A great set that was over too soon. Looking forward to the full album.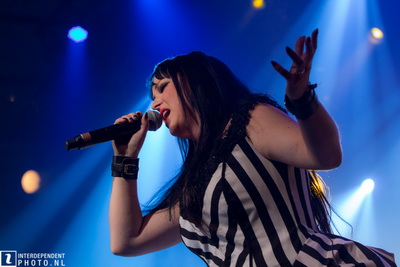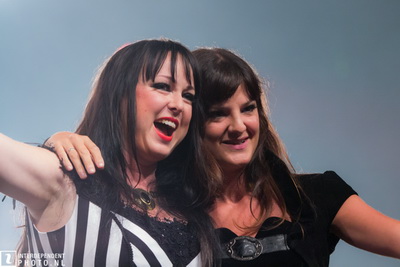 It would be hard to follow up. But no problem for Ancient Bards. I did the review of their album A New Dawn Ending and was curious about the live performance. Think about Nightwish with an add-on of Power Metal a la Sabaton, then you can set your level of power to expect on stage. And that you get. The band's interaction on stage and with the audience is great. And the response from the crowd is natural. Front lady Sara Squadrani knows how to use her voice. I was very impressed because taking into account what she did on the album. I assumed it would be challenging. She clearly got the level. For me a revelation live and I was happy when I realized I would see them again in a few weeks.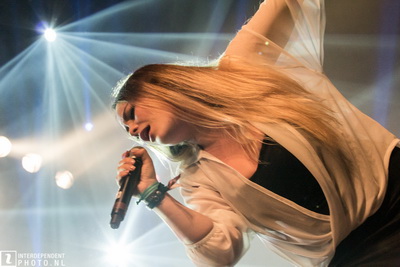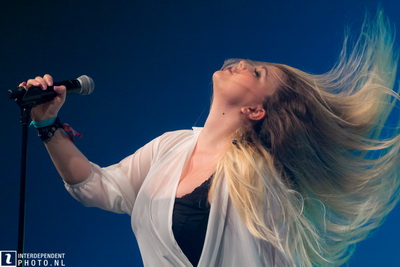 A well-known name on MFVF is Maxi Nil. This time she's present with her band Jaded Star. I've seen them before on Dames of Darkness so I knew what to expect. All in all it looks like Maxi's voice has a better fit with Jaded Star than in Visions of Atlantis. It's a solid show. The songs are relatively accessible which created a big response from the crowd. For quite some people a highlight was the visit on stage. About 30 fans (from a 200 participants in the JS contest) were invited on stage to rock with the band.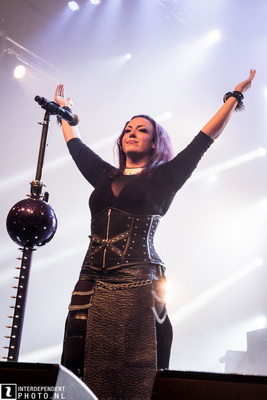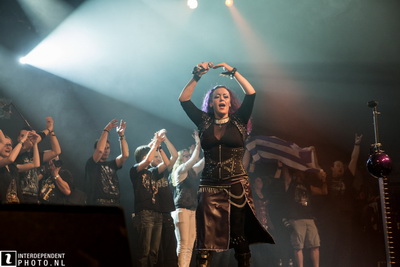 Talking about energetic: front lady Anza of Head Phones President is a whirlwind on stage. She turns, jumps and "flies" on the stage and is still capable of creating decent vocals. She does clean vocals, grunts and screams, impressive. The up-tempo and straight performance is appreciated by the crowd. Val selected again a great, enthusiast and entertaining Japanese band.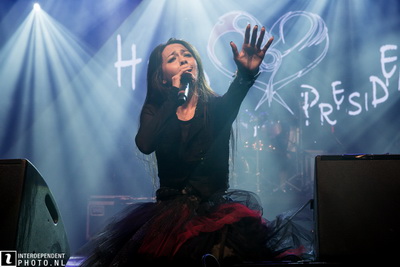 Skeptical Minds is one of the bands that has a special relation with MFVF. They are Belgian but I think their stage performance is the main reason. It's always a party when they are around. Karolina Pacan knows how to play with the audience, even during the sound check. The show including the songs "Alcohol", "Fears" and "Living in a Movie" is very well appreciated. And of course this is a good opportunity to release at the festival their live album Run For Your Live (recorded at MFVF in 2012).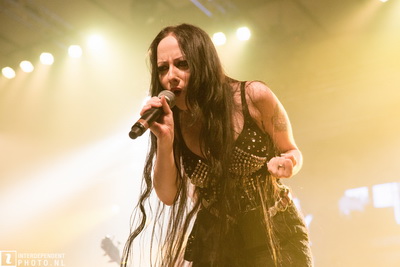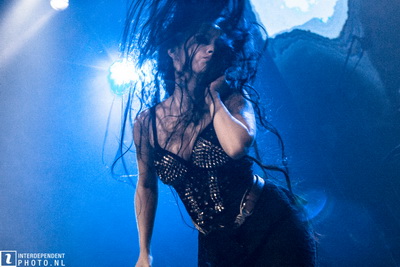 Another regular visitor is Diabulus in Musica. With the album Argia in mind the expectations were set very high. And I was not disappointed. It was a spectacular show. The entrance of Zuberoa Aznáres as an Egyptian princess, the choir, the dancers and pyro, all these theatrical elements added to the show. As expected with Sirenia in the line-up, Ailyn Giménez featured in "Furia de Libertad". Other highlights were "Sed Diabulus" and "Spoiled Vampire". The new material performed live and the high level show was a great experience. Sorry it was over too fast.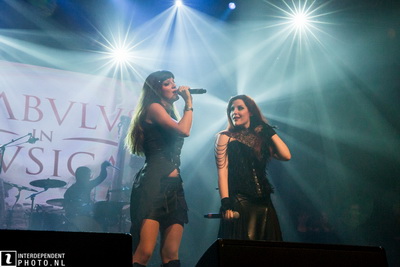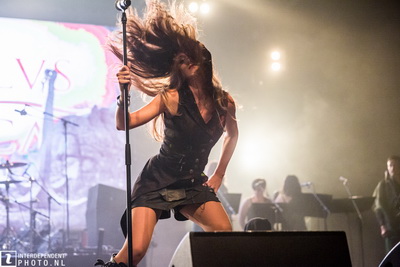 Now I will disappoint maybe some people. I had to skip one show for getting not only some food, I also needed to replace Ingeborg Steenhorst backstage to allow her to get some food too. In her space there were the precious little dolls of Simone Simons (that will be auctioned in December to support the Cancer Foundation) and Floor Janssen in authentic miniature stage outfits that needed to be guarded. My duty caused me to miss Draconian.
I recently heard that The Sirens was already a very old idea that only recently became reality. The project brings together three lady pioneers in the metal scene: Liv Kristine, Anneke van Giersbergen and Kari Rueslåtten. Together and separately they bring songs from their careers. A fine band supports this historical overview of solo and band songs of the three ladies. The beautiful voices and the fun and interaction on stage had their impact on the audience. They were very pleased with what was served. It fit also in the context what would come later.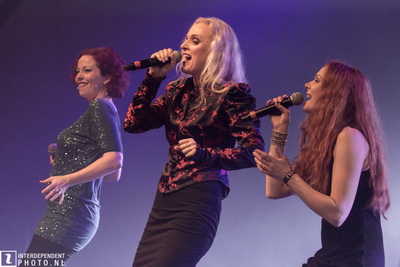 Even before they started there was a great applause for Sirenia. It showed that they were quite popular. Although Ailyn had her warming-up (with Diabulus in Musica) it took a little to get the top level. A great voice, varied and always keeping the attention. Sirenia played a set with new songs from Perils of the Deep Blue but also old songs like "The Other Side". They for sure didn't disappoint the audience. They were singing and clapping. Looking forward to see them again at Dames of Darkness in 2015.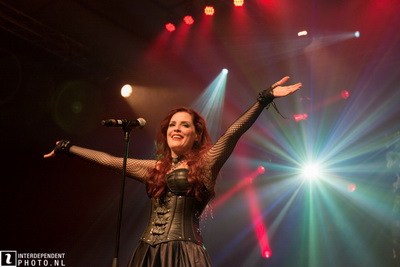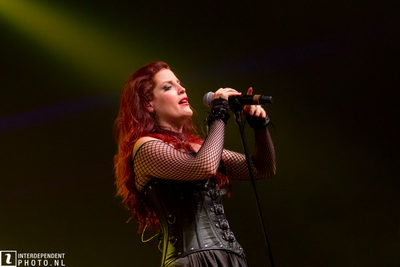 The closing is for another regular guest. Leaves' Eyes celebrates their 10th anniversary with a special show "Hyms of a Decade". The setlist is based on the requests of the fanbase and gives a nice overview of their works. Of course Liv's favorite "For Amelie" and "Norwegian Lovesong" are present. MFVF has chosen not to work with backdrops but using projected visuals instead. Leave's Eyes used that to support the music with lovely images of Norway and other video clips. Not only this, but also the six huge swords on stage and the overload of pyro made the show special. I think nobody in the venue would have complaints that it was too cold in there. For Liv a second gig in a short period but no worries, she could handle it easily. The fan choices put some surprising songs on the set list like "Meridad". Additional musicians, dancers and guest vocalists supported the party on stage. For the third time today Zuburoa and Ailyn entered the stage, now to sing with Liv. The appearance of Alexander Krull as a Viking in "Hymn To The Lone Sands" fit in the whole. Both fans and just present visitors enjoyed this warm, enthusiastic and entertaining show. An excellent closing.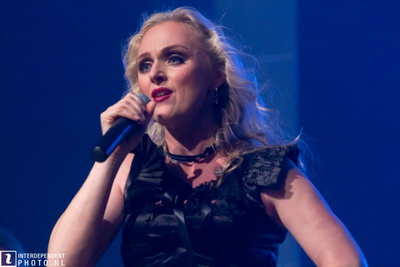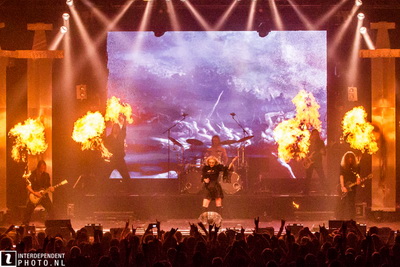 A great day in Oktoberhallen. Now more than happy to be off to the party in the Ibis.