August 11 – August 12, 2012
Hildesheim, Germany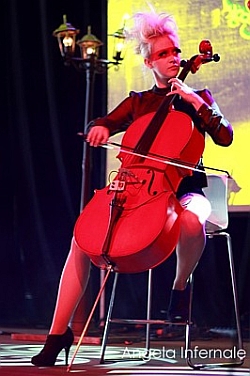 M'era Luna is one of the biggest goth festivals in Germany, with 21,000 to 24,000 people attending it each year. This time it happened on August 11 (Saturday) and August 12 (Sunday), with over 21,000 people. It also offers a great deal of metal, and almost all of the major names in the Femme Metal genre have played there: Epica, Leaves' Eyes, Within Temptation, Nightwish, Lacuna Coil, The Gathering, and the list goes on. This year, there were only few female fronted bands, but each of them had something quite special to it, which made the overall impression anything but disappointing. A classical string quartet, an Industrial Metal band, and a Pagan Folk band, the artists in this review could hardly be more diverse, and are yet equally appealing. But before getting into the details of their music and shows, there are some things worth saying about the festival.

M'era Luna has been around since 2001, and takes place at a not so little airfield outside the city of Hildesheim, Germany. Even though the town is close, there's no reason to ever leave the festival grounds, meaning that you basically live inside a goth bubble for three days straight. Apart from bands playing, there are signing sessions, book readings, fashion shows, a medieval village, and after-show club nights until 5am. Free flush toilets, free showers, a great selection of foods (some of which were vegan, which pleased me much), and a campground that is arranged in a way that allows you to walk to the infield in about ten minutes, no matter where you live; all this makes M'era Luna one of the most pleasant festivals to be.
Other than a lot of festivals this summer, M'era Luna was lucky enough to have good weather all the way through the weekend. Although it got a bit cold at night, it was nice and sunny during the days, and not too hot at that. Sunscreen was still a good idea. There are two stages, the main stage outside, and another in one of the airfield's hangars. Unfortunately, there are sometimes overlaps between two bands playing, which can lead to hard decisions.
Eklipse
Eklipse are one of those bands that seem to pop up out of nowhere, and make you wonder where they're going to end up. They've been around for roughly a year, and within a time this short they've not only opened for Nightwish during the whole European leg of the Imaginaerum World Tour, they also recently played at runway shows at the Berlin Fashion Week. This may sound odd to those of you who have never heard of Eklipse, so let's establish some key facts about this band first. They are an all girl classical string quartet – two violins, a viola, and a cello – and play rock and pop song covers that range from Justin Timberlake to Linkin Park.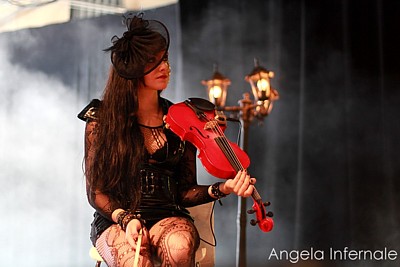 They established themselves quickly in the dark scene, and played all the major goth festivals this year: Wave Gotik Treffen (Leipzig, Germany), Amphi Festival (Cologne, Germany), and M'era Luna (Hildesheim, Germany). Although they are quite secretive about the people behind the (literal) masks, they are close to their fans and come up with a lot of special treats for them, which may well be part of what got them this far in such a short time. For this last event they not only had a signing session, but also raffled off two spots on the guest list and a backstage meet and greet for four fans.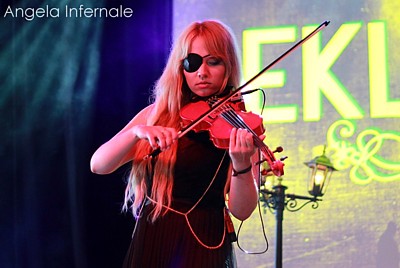 Eklipse got a rather early slot at 11:45am on Sunday morning. It was all the more surprising how many people gathered to see their set. The hangar was pretty much full, something that surprised me, even though I expected a good turnout for this band. The girls had a bit of a bumpy start with some technical difficulties, but laughed it off quickly and started their set with "Cry Me a River." After having seen them sort of recently – three times during the Nightwish tour in April and May, see review here – I didn't really expect any big surprises as to their set list. They seem to have made good use of those months in between, though, and played two new songs that are not on their current album A Night in Strings: "Sweet Dreams" and "You Spin Me Right Round."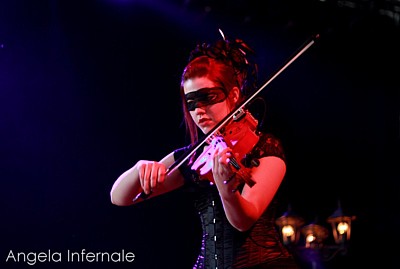 One thing that I've always loved particularly about their shows is the lighting. They use blue and red lights, along with some little lamps that resemble street lights, and no quick changes in lighting. It accentuates the music nicely, and the overall result is a very soothing and calming experience, especially with the low-pitched sounds of the cello that balance out the faster and higher notes of the violins. Unfortunately, Eklipse only had a 25 minute set. They played a total of only five songs, which were the ones mentioned above, as well as "Cry Me a River", "Run", and "In the End" from the current album.
Setlist:
Cry Me a River
Sweet Dreams
Run
In the End
You Spin Me Right Round
Lahannya
It is hard to tell whether Lahannya should be called a one-woman singer-songwriter project or a female fronted metal band. One could say that it started off as the former and then turned into the latter. M'era Luna plays a central role in this development, as it was here – back in 2004 – that front woman Lahannya met Lutz Demmler, who has since become a central member of the band. Their music, which is often described as Industrial Metal, has an electronic influence, but puts the main emphasis on rock and metal elements and vocal melodies. Lead singer Lahannya's voice is one of the central elements in their music, and Lutz's backing vocals act as a nice addition to it. Their visuals and style still give away that they are originally rooted in the goth scene. Lahannya have been around for quite a while now, and have released three albums as well as some EPs and singles. Those of you who will make it out to Metal Female Voices Fest in Wieze, Belgium later this year will get their chance to see them live; they will be playing there for the second time.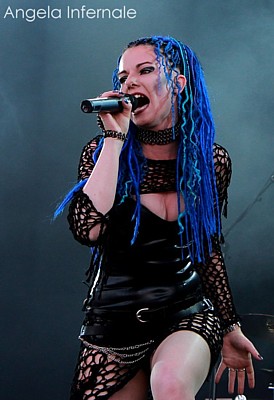 I mentioned earlier that hangar was pretty much full during the set of Eklipse, and this is exactly what made me miss the beginning of Lahannya's set. Unfortunately, they hit the stage the very minute Eklipse finished their show, and getting out of the hangar and over to the other stage can take quite a while when you're stuck in a slowly moving crowd. I made it to the main stage about halfway through the second Lahannya song. Even though this was a pretty early set as well, the band had drawn a considerable crowd. Front woman Lahannya appreciated that so many people had shown up; especially, as she noted, as most of them had probably been partying the night before. Her addresses to the audience and maybe also her British accent made her seem very pleasant and likeable.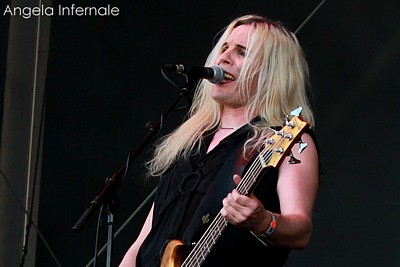 She has a very engaging stage presence, too. She made good use of all the space available on the big festival stage, and was always in motion, interacting with her band members and the audience as well. Lahannya's voice is pretty strong and rather deep, which goes well with the band's music, whereas a higher voice would seem a bit out of place. With three albums and other material to choose from, and a 35-minute-set, they had some tricky decisions to make. They played some older material, such as "Dying Inside", which has a strong and memorable chorus, as a lot of Lahannya songs do. The focus of the set was on the latest album Dystopia, released in 2011, though. My favorites of their performance were "Cocoon", "Beautiful Wastelands", and "Save Me." The latter comes with an official video, which once again shows the band's roots in the goth scene.
Faun
This band from Germany is probably one of the most accomplished Pagan Folk / Medieval bands that ever existed. And this is no exaggeration. It is hard to keep track of how many different instruments they use (most of them non-standard), but a quick check on their Wikipedia page accounts for about 20. Their lyrics are in a variety of languages, such as German (quite obviously), but also Spanish, Latin, Icelandic, and others. They draw their lyrical influences from ancient legends or various pagan cultures, and most of their songs have a dreamy and fantastical ring to it. This makes them very popular in the medieval and fantasy subcultures.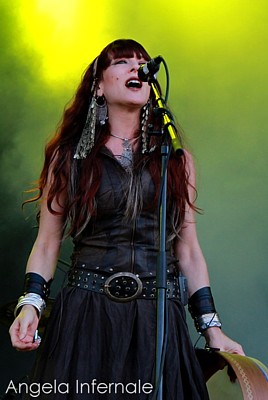 Their versatile performance comes in either an acoustic set or a regular set, with synthesizers adding an atmospheric base that gives their music a kind of hypnotizing character. They have up to four vocalists, two female and two male, but usually combine the two girls' voices to achieve a rich, almost sublime choir sound. They've been around for more than ten years, and have had some changes in lineup, always maintaining their characteristic sound, though.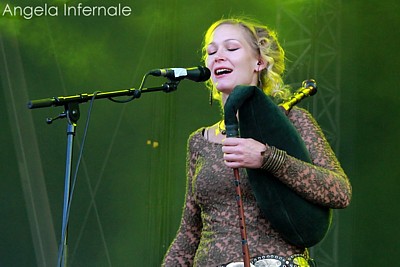 This show was (only) my second time seeing Faun, and the first time had been five or six years back. I didn't know any of the newer material, so all in all I had no idea what to anticipate. The first time I saw them, they had me in a kind of trance halfway through their set, so this time I had my expectations pretty high up. Turns out their show hasn't changed much, and it is still just as captivating. Alternating between instrumental passages and parts with vocals, choirs and regular singing, and an ever-changing set of instruments – some of which I could not even name – their performance never fails to entertain. The instruments used at this show included bagpipes, flutes, hurdy-gurdy, Irish bouzouki (kind of like a mandolin), nyckelharpa, and various types of percussion instruments. The synthesizer samples mentioned earlier provided the undertone that makes their music all the more danceable.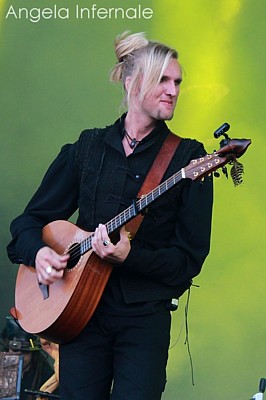 Even though Faun's sound is of a rather ambient nature, which was quite a contrast to the Metal and Electrogoth that is characteristic for this festival, they were well received by the audience. There was more dancing going on than at a lot of the club music shows. Lead singer Sonja often got vocal support by the second female singer Fiona, that is, when she wasn't playing the bagpipes or flute. Front man and male vocalist Oliver, as well as hurdy-gurdy player and singer Stephan, joined in occasionally; the set was surprisingly dominated by female vocals this time. The combination of the four singers' voices culminated in an a capella song, with which the band ended their set.
Encore
It was my fourth time coming to M'era Luna, and it will sure not be my last one. It is a very special festival that draws a very specific audience. What had to be neglected, to some extent, in this review is the Industrial, synthpop, and related music, both male and female fronted, which makes up a huge part of the festival. You find yourself between cyber goths, and Steampunks, and ladies in ornate Victorian dresses. You can have a medieval wedding ceremony, shoot arrows, or sit down on rugs in a Middle Eastern style shisha-bar, for a nice Chai with soy milk (it was delicious), while watching some talented girls belly-dance. This festival celebrates the diversity within its scene, and the same people who just danced to electro beats will come and listen to some girls play their violins, before rocking out to some metal and later dance again; to the sound of bagpipes and hurdy-gurdies this time.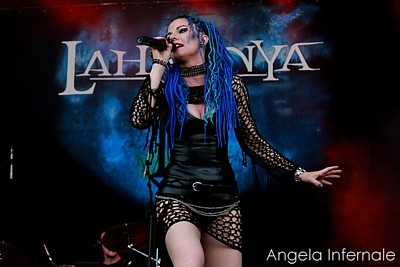 Another great part is the general atmosphere among people. Left your toothpaste in your tent? No problem, there will always be someone who'll gladly share theirs with you. There are fun pastime games on the campground, and you can simply join random people in their camps and sit with them, or dance with them to the music they're playing. On getting back into "normal" civilization, you will have a re-culture-shock, and miss the past days when everyone was friends. And then, at the latest, you know you'll return.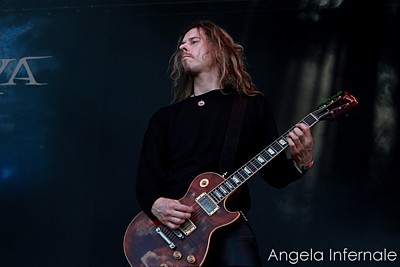 Keep an eye out for MORE EXCELLENT coverage from our roving European concert writers! Thanks Angela!