Sensorium - CD Review
The Art of Living

CD Info
Album: The Art of Living
Artist: Sensorium
Genre: Power metal
Label: Cast Iron Music
Tracks: 13 Total time: 67:09
Rating: 9 of 10
As the female-fronted symphonic metal genre continues to gain traction around the world, it goes without saying that it is no longer something uniquely exclusive to Europe anymore. The United States has been experiencing a growing scene over the past several years, and other countries where symphonic power metal has enjoyed a large fanbase are also beginning to formulate their own bands, inspired by the originators of the genre. While it's not too surprising to see the U.S. finally catching on, or to see bands emerging from Latin America, where bands like Nightwish and Within Temptation continue to enjoy massive success—the scene continues to expand in places where one may not expect a wide metal audience, or countries that are not necessarily associated with having a loyal metal following.
Case in point: Israel's Sensorium, who formed in 2012 by guitarist Michael Timoshko, keyboardist Alexander Piavsky, and rhythm guitarist Sergey Golikov. After a chance meeting with drummer Iosef Bartov in a music store, the trio went to work searching for a bassist and a vocalist to round out their band. After placing some ads on some local music message boards, bassist Edi Lemishov and opera vocalist Ksenia Glonty answered the call, and Sensorium was born.
Sensorium rapidly evolved from there: after playing a handful of shows, they recorded 2 demos, and by 2014 the band felt ready to record a full-length album. Early 2015 saw the release of their debut offering, The Art of Living, and Sensorium was primed to place Israel on the symphonic metal world map.
"Intro": This opening track is pretty self-explanatory; it's an intro piece with little more than gentle acoustic guitars, whispering vocals, and sparse piano work.
"Consumed": A quintessential power metal guitar riff opens up this track, and Sensorium shows all they can do. Ksenia's vocals are a perfect match to the music: both pack a mighty punch! Some groovy bass lines right before the guitar solo, and a keyboard solo that would make any prog-rock band proud.
"Haunting Verity": The album's first single, it starts off with some nice keyboard work that is very reminiscent of old-school power metal like Stratovarius or early Nightwish. Awesome guitar, bass, and keyboard work on this track, rapid-fire drumming, and Ksenia's vocals positively shine.
"Surreal Nightmare": Some nice bass starts off this song, and then the chilling keyboard work and fast pace of the song coupled with Ksenia's soaring vocals bring life to the title of this track; it sounds eerie and mysterious, and then as the guitars take over, builds from sad and mournful to hopeful and courageous. An array of emotions are conveyed in this 6-minute song.
"Moments of Hope": This track has a lot of gothic flair, along with that power metal spirit, making for that sort of sprightly, medieval-sounding tune. Ksenia's voice floats up and down as the song takes you through its twists and turns.
"Thousands of Stars": This was the first song I heard from Sensorium; the song that made me fall in love with the band's music and want to hear more. It's such a beautiful song, starting off with this gorgeous acoustic guitar work and soft pianos, and then Ksenia's voice just give you chills.
"People of the Midnight Lands": This is a song that sounds like it would be on the soundtrack to a fantasy film or video game; it's got that driving beat that signals impending danger. You can almost see the warriors on horseback, swords drawn, marching off to battle.
"End of the World": Another song that starts off with slow acoustic guitars and then builds into an all-out power metal jam. Ksenia's vocals reach stratospheric highs in the chorus! This is another favorite for me.
"Winter Death": This 7-minute epic is aptly named, the beginning of this song almost sounds like something out of a haunted Christmas tale! Actually, reading the lyrics, it doesn't seem as though my assessment was too far off: "Within a frozen moment, million flashes sweeping by…oh, why? Suddenly becomes so easy to stop this torment, to spread the wings and fly into a crystal winter sky!" I can see this song being a fan-favorite.
"Illusion": Fast-paced drumming, atmospheric keyboards, and lightning-fast guitars set the pace for this tune. In fact, the guitars are so fast they could almost be thrash-metal riffs. Ksenia's gentle vocals are almost a sharp contrast to the heaviness of the music up to that point.
"Leviathan": OMG, this song is so bad-ass! It almost reminds me of the boss battle music from The Legend of Zelda II: The Adventures of Link (did I just age myself? Yeah, I totally aged myself!). You can practically see the looming shadows of the monsters lurking in the corner as you bravely stand alone with your weapon in hand. And then Ksenia just nails it with those epic high vocals that would shatter bulletproof glass to slivers! This one ties with "Thousands of Stars" for my favorite track on the album.
"Mirrors": Almost an echo of Wishmaster-era Nightwish on this track, the drums are quick and frenzied, and the keyboards are going so fast it's a wonder the keys aren't smoking! The guitars and bass also have a part to play later on, and the entire band just rocks it out before the song takes this bombastic, sweeping turn that gives it that extra kick before Ksenia sends it off with her high notes.
"The Art of Living": The title track begins with slow, moody pianos, and Ksenia's voice is so mournful and heartbreakingly beautiful. When she sings the line, "live in the moment to understand the destiny", it just pierces your heart; and then the guitars come in to deliver a solo that is filled with passion and emotion. A perfect way to end the album.
Overall opinion: As far as the up-and-coming symphonic metal bands are concerned, Sensorium has definitely got what it takes to move to the front of the line and become that torch-carrier for the next generation of female-fronted metal. Sonically, their music is reminiscent of early Nightwish, and they also remind me a lot of Venin Noir (one of my favorites from the early days of the scene); yet I would definitely not call them a copycat band, not by a long shot. While it is easy to draw comparisons to their predecessors, I would say that the biggest similarity that Sensorium has to those bands is that they already have such a polished sound for this only being their first album. It's almost easy to forget when listening to the music that they have only been together for about 3 years! As a vocalist, Ksenia is just positively glorious. I cannot say enough about her voice. She has that pure quality to her voice that has been missing in operatic vocalists in the genre for so long. The rest of the band also rocks: they do not sound like a mere backing band to such a powerful voice as Ksenia's; they can hold their own alongside her and match her note for note. There are funky bass grooves, blistering guitar solos, powerful drums, and evocative keyboards in the music of Sensorium, and none of that is lost among the operatic vocals. Musically, they are sure to appeal of fans of Tarja-era Nightwish or similar bands. I would not necessarily recommend them to fans who are new to the genre and have not quite become accustomed to operatic vocals yet, because Ksenia goes all out with her opera voice and does not try to play it down at all—which she shouldn't! This is a strong debut from a band who is certain not only to make an impact in Israel, but among power and symphonic metal fans around the world. If this is only the beginning for Sensorium, I can't wait to hear what their next album will sound like!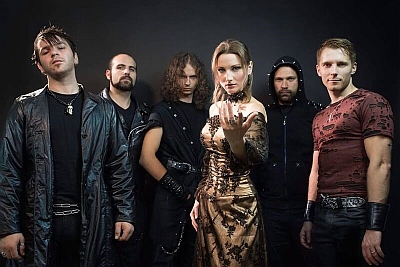 Special thanks to Demas Miller
For more information on Sensorium, visit their Bandcamp page