Melphomene - CD Review
Destructive Crescendo

CD Info
Genre: Symphonic/gothic metal
Total tracks: 7 Total time: 34:42
Language: English
Rating: 8 of 10
Metal has always enjoyed a devoted following around the world, and the Latin American countries are especially known for being the most passionately dedicated. While South American countries such as Brazil or Argentina get the lion's share of the public recognition when it comes to the over-zealous Latin American audience, Mexico also has their share of loyal metalheads.
Although symphonic metal has also garnered a large fanbase in Mexico, there are not a lot of bands from the area who specialize in that genre, but now that slot has been filled by Mexico City's Melphomene. Named for the Muse of Tragedy depicted on the comedy/tragedy theater masks, Melphomene formed in late 2013 by guitarist Mario Del Rio Escobedo and vocalist Esthíbaliz Rojas. Combining their impressive résumés— Esthíbaliz, a trained soprano who had performed in productions throughout Mexico and Italy; and Mario, a teacher at a respected music academy in Mexico—along with their musical influences ranging from metal to classical to folk music; Melphomene had all the components to put together something quite impressive indeed.
Recruiting bandmembers from the music academy where Mario taught classes, musicians from the local metal scene, and an export from Argentina, Melphomene was ready to release their first EP by early 2015. The 7-song effort that was Destructive Crescendo has rapidly gained momentum throughout the band's native country as well as generating buzz around the world. It was clear that Melphomene had what it took to put Mexico on the map of the symphonic metal globe.
"Always": Gentle pianos, strings, and soothing orchestral instrumentation start off the opening track, which has some nice drumming and Esthíbaliz's sweet vocals. On this track, she sounds a little like Liv Kristine when she's singing in her "standard" voice, but (to my ears) not as nasally. However, once she gets into her operatic voice, you can really hear what she's made of! A mid-tempo number, this track would not necessarily be one I would have placed as an album's opening track, but it's got all the hallmarks of a good symphonic metal tune and is a good introduction to Melphomene.
"Howl": Originally released for digital download on the internet before the EP was finished, this probably would have made a better album opener. The band picks it up and gets heavier on this tune, and Esthíbaliz has more of a "rock voice" here, which is quite strong and commanding. Yet it's her opera voice that shines, and we still haven't heard very much of it yet. This song is very reminiscent of the early days of symphonic metal; hearkening back to bands like Pettalom and very early Lacuna Coil. Mario's guitar solo, while brief, shows off his musical ability and that he can match Esthíbaliz's vocal intensity.
"10 Last Seconds": Futuristic-sounding keyboards usher in a power metal vibe on this track, and some lovely acoustic guitar work has just enough of that flamenco-styled flavor to pay homage to the band's Mexican heritage, and then Mario completely shreds on his guitar solo. Esthíbaliz channels her inner Floor Jansen, going from powerful rock vocals to vulnerable soft vocals to crystal-clear operatic vocals.
"Little Sins": A piano-based ballad, Esthíbaliz sounds gorgeous here; utilizing her gentler vocals here instead of going full-on operatic, which fits the mood nicely. Even when the band joins in, the song never gets too heavy, but they add just enough to give it an extra boost. Something about this track reminds me of something from one of Tarja's solo albums, but I'm hard-pressed to say exactly what.
"Mother Night": The bass leads in this track, and Mario provides some vocals to accompany Esthíbaliz. This song has a very gothic feel: the drums are cadent, like a military beat, which matches the lyrics perfectly. Vocally, Mario is not a growler like so many of the other "beauty and the beast" male vocalists that are prominent in symphonic metal, but he has more of a "Gregorian chant" style of singing, for lack of a better term (again, I am reminded of the Brazilian gothic metal band Pettalom in this respect). Mario has this deep baritone quality to his voice that beautifully complements the dulcet high tones from Esthíbaliz. Mario's guitar solo gets a little more air-time on this song as compared to the others, which I like, because he has a great sound and I'd like to hear more of it. I wish as much attention was given to the solo as to his male vocals: Esthíbaliz almost takes a backseat, and Mario's vocal style is better suited when accentuating what Esthíbaliz is doing; not so much as a lead vocal.
"Destructive Crescendo": The band's first single and my first introduction to the band, this is a heavy tune that is quintessential symphonic metal. Esthíbaliz appropriates her operatic vocals here, much more than on the previous tracks. This is one of the album's finer moments, and an excellent choice for a single.
"Maiden & Death": A lovely fusion of the gothic and symphonic elements, this song gets my pick for favorite track. It's slow but not a ballad; more of a dark, doomy heaviness. Mario returns with some more male vocals, but they sound more fitting here, because they are giving the song that eerie, ominous feel. As the band gets heavier, Esthíbaliz's vocals intensify. The two vocalists trade off in a classic "beauty and the beast" duel as the song and album comes to a close.
Overall opinion: For a debut album, Melphomene shows a lot of promise and potential to be some serious contenders in the symphonic metal scene, if they play their cards right. Their music has that feel to it that reminds me a lot of the time when gothic/symphonic metal was still way new, and the two genres had not yet split off into distinctly different categories and symphonic metal was still steeped in gothic characteristics. There aren't very many bands who fuse these two genres anymore, but Melphomene does this, and they do it quite nicely. Esthíbaliz is a versatile vocalist who, with a little more experience with singing in a metal format, has the potential to be the next Floor Jansen. Her voice has similar qualities to Floor, in that she can easily shift from various styles and sound great doing them all. She may not have the commanding presence or intensity of someone like Floor just yet, but if she works at it, Esthíbaliz could come into her full power as a vocalist as time goes on. Mario is an experienced musician who has played in many bands for many years, and the fact that he is a teacher can also work to their advantage as well. Because Melphomene is a new band, the sky's the limit for them. That being said, because they are a new band, that means there is also room for improvement. A few of the songs on the album felt as if they ended too soon, or ended before they really started getting somewhere. Mario is an outstanding guitarist, but I would have liked to hear more of him; his solos were excellent but ended too quickly, sounding almost rushed through. I also feel like the drumming could use some refinement as well; "Mother Night" had some fantastic drum work, for example, but I also felt that the drummer uses the cymbals way too much; overusing them on certain tracks, which then takes away from the actual song itself. I think "less is more" is a lesson that can be learned in that respect. Or, use less cymbals and more guitar solos! Many moments on this album that could have been positively stellar were curtailed because of these two factors. However, these are impediments that can easily be fixed; with a few minor adjustments, some tightening up, and a little more finesse, Melphomene could become some real stand-outs on the scene and become that flagship band for Mexico the way that Nightwish is for Finland or the way Epica is for The Netherlands. They have the talent and the drive to make an impact—now all they need is a little more practice at utilizing those things to their fullest capacity. With any luck, we'll be talking a lot more about Melphomene in the future, because the best is yet to come!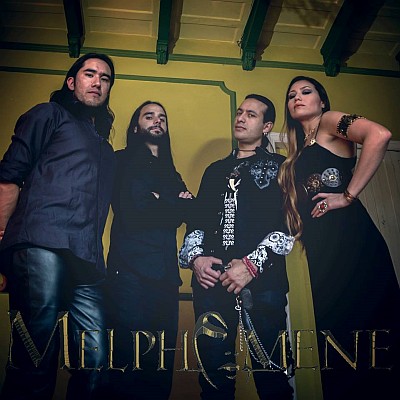 Photo courtesy of Adriana Zetina
For more information on Melphomene, visit the band's ReverbNation page:
https://www.reverbnation.com/melphomene