A Sound of Thunder - CD Review
Tales From the Deadside

CD Info
Genre: Power metal
Language: English
Label: Mad Neptune Records
Total tracks: 10 Total time: 59:54
Rating: 10 of 10
One of the hardest-working bands on the metal scene, A Sound of Thunder is working on new music before their current album-to-be is even finished! When I first met the band nearly 3 years ago, they were in the process of releasing their album Time's Arrow, at which time they already had most of their following album finished (The Lesser Key of Solomon). No sooner than Lesser Key was ready for public consumption did the band already have the album put together that would become Tales From the Deadside. It goes without saying that A Sound of Thunder can never be accused of milking the success of one album for as long as possible before they are forced back in the studio to make more music. The "new car smell" of the band's most current album barely has time to wear off before they are ready to give fans another one. That's rare in this day and age, and one of the many traits that makes A Sound of Thunder stand out from their contemporaries.
What's more, is that they only improve with each album; their creative well shows no signs of running dry, and they are always full of ideas for their next musical project. Even while working on this latest album, they still found time to make an EP of cover tunes, one of which included a rendition of Manowar's "Pleasure Slave"; putting a feminist twist on what would normally be considered quite misogynistic lyrics! It is this sort of work ethic that has allowed the band to release 5 albums strictly by way of word-of-mouth advertisement (or, as it's more commonly called these days, "social media"): a commitment to metal perfection that allows them to keep going simply on grass-roots fan dedication and without the help of record labels or big-name management. A Sound of Thunder is definitely not a band who gathers moss, and certainly doesn't develop at so fast of a rate that they find themselves in danger of stagnation or predictability.
Case in point: Tales From the Deadside, a concept album based on the Shadowman comic book series; the idea of which was born during a trip that bandmembers Nina Osegueda and Josh Schwartz took to a comic book convention, where they visited the Valiant Comics booth and were instantly taken in by the story of Shadowman and felt that the comics were a perfect backdrop to their special brand of metal. The comic book creators were also on board with the project, which opened up a perfect cross-promotion opportunity: comic book fans who never heard of A Sound of Thunder would now be acquainted with their music via the comics that they loved; and fans of A Sound of Thunder who normally didn't read comics would be enthralled by the tale of Shadowman and quite possibly might feel inclined to further check out these comic books and follow the story in further detail. The band's music has been primed and ready for such a project for a long time, so it was only a matter of time before their brand of metal entered the realm of conceptual art.
"Children of the Dark": Bells chime, Nina shows off her operatic chops, and the narrator begins the tale of a rebel spirit, and the birth of twins that would change his destiny. The song has a very Black Sabbath vibe to it: slow, ominous, and building up to a heavy groove. There are even some keyboards to give it that power metal feel, but not enough to overpower Josh's ripping guitar riffs! Nina's voice is as big as ever, showing off her diverse range in this 7+-minute track.
"Sandria (Carry On)": The song's titular character picks up the thread of the tale. Nina's softer vocals are present here as they grow in intensity and power. "Though the road may be long, we must carry on". Chris' drumming is positively stellar on this tune, and Josh channels his inner Petrucci on the solo. The bells at the end give it that extra goth flair, making it all the darker and creepier.
"Can't go Back": Learning the secret of his parentage, the orphan Jack tells his story here. The sound of blowing winds start this song off on an eerie vibe. Although A Sound of Thunder's music is not necessarily tailor-made for mainstream consumption, I could see this song being a radio single. It has all the key components: it's mid-tempo but still rocks, the chorus is memorable, and Nina's powerful voice is present without being in full-on "Queen of Hell" mode, yet is no less captivating. Story-wise, this is a turning point for Jack's character; knowing he "can't go back" after all he has learned, and how his new role as the Shadow Lord has forever changed him.
"Deadside": The beginning of this track is slow and foreboding; a bit of a Tool-esque feel to it. One of the slower tracks, this song relies more on lyrical intensity than on musical showmanship—though that isn't to say that there's not plenty of that! Only A Sound of Thunder could write a slow song that still rocks your ass off, and this one certainly does! Just when you think things are going to stay at a mellow pace, the band picks it up and gets back to all-out rockin'. Chris unleashes his inner Neil Peart during the song's final moments. The last 2 minutes of this near 8-minute track will make for some great headbanging at live shows.
"Tower of Souls": The album's first single, this is trademark ASOT from beginning to end, with a dash of symphonic goodness thrown in. The blazing guitar riffs, groove-based rhythms, and Nina's glass-shattering vocals are all here to make this a new fan-favorite and future ASOT classic.
"Losing Control (The Unquiet Shadow)": Another song that starts off slow and works its way up to heavy intensity, Nina once again throws in a small sample of her operatic vocals to let it be known that if she ever wished to dabble in the realm of symphonic metal, she would give her contemporaries a real run for their money! Lucky for them that she has no desire to do so! Actually, her vocals on this song overall is proof of why she can give any metal vocalist some serious competition. The rest of the band tears it up on this tune as well: Chris is an absolute monster, Jesse is kicking ass, and Josh is completely on fire.
"Punk Mambo": Probably my favorite track on the album, this is ASOT unleashed. Nina's voice is wild and unhinged (she always sounds best when singing songs about being wicked!), and the band is jamming their asses off on what is possibly the most musically experimental song they've written so far. Showing how diverse they can be, amidst all this metal madness, along comes a saxophone to jazz things up; because only ASOT could make a saxophone sound metal! Other metal bands have tried to do the same, but few (if any) have pulled it off with such finesse and managed to weave it into their overall sound the way ASOT has. The sax player totally rocks on his solo, and if they decided to bring him on full-time, I don't think he'd have any problem fitting right in!
"Alyssa (Life in Shadows)": This song's title character is the one whose love can keep Jack sane as the Shadow takes him over. "Stay with me, I can give you strength in this life of shadows". Nina sounds beautiful on this track; her voice haunting, pleading, and intense. "There's nothing I won't do to save the world and you", she sings. This is the closest to a "ballad" the band ever gets, but it's never so soft that it's mushy, and leaves enough heaviness to never be lightweight.
"Tremble": Another song I'd consider a favorite, ASOT gets positively metal and leaves no doubt that they're here to melt your face off with their fiery vocals and blazing riffs. For all the ways in which they've explored the various aspects of their sound on this album thus far, "Tremble" is what fans love and have come to expect from ASOT, and it is certain to please the most critical of fans.
"End Times": The band gets their doomiest on the final track, and it's just as awesome as you'd imagine. The story has some twists as it comes to a close; musically, it's a culmination of all the different soundscapes that have been explored throughout the course of the album, while still maintaining that signature ASOT sound. They pull out all the stops on this 7-minute track as the tale of Shadowman reaches its climax; punctuated by some high-pitched wails from Nina that pierce your soul! Will Jack give in and serve the Shadow Lord? You don't expect me to give away everything, do you? You'll just have to listen to the album to find out!
Overall opinion: Their most ambitious project to date, A Sound of Thunder never fails to deliver when it comes to going above and beyond what is expected of them; not only from their fans, but from themselves as musicians. Continuing to top yourself is never easy for any artist, especially not a band who makes it a conscious effort to evolve as rapidly as they do. However, the operative term here is "evolve", and A Sound of Thunder does this with each and every album. This album is a step up from The Lesser Key of Solomon, which was a step up from Time's Arrow, and so on. While it seems obvious that giving their audience a better effort than before should be par for the course for any band, most of us as music listeners know how few bands actually do it (in fact, it is almost a stereotype that most bands create their best work on their earlier albums and lose their spark as they go on); so when you have a band like A Sound of Thunder that makes the effort to outdo the albums of the past, it is self-explanatory as to why they have earned such a dedicated fan base.
Not only was making a concept album a natural step in this progression, A Sound of Thunder has taken their sound to new levels both lyrically and musically; they have also experimented with various sounds as well. Whether it is delving more into their gothic side on "Sandria (Carry On)", or dabbling with jazz elements on "Punk Mambo", A Sound of Thunder continues to up the ante and give their fans nothing short of their best. While A Sound of Thunder is certainly not the first band to write a concept album based on a comic book, their fans know them well enough to know that, as a band of self-proclaimed fans of fantasy, sci-fi, video games, and comic books, this was exactly the kind of concept album they would have made.
So then, what about the story itself? Do you need to go out and buy all the Shadowman comics in order to follow along with the album's storyline? Although you can consult your lyric booklet and read the comic provided inside, I have personally found it isn't necessary unless you want to further enhance the experience. There is a narrator that speaks between songs to fill in whatever the lyrics don't provide or do not clearly explain, so you can simply listen to the album without any lyric booklet and still follow the overall plot. The band does a good job at making the story "user-friendly" for fans like myself who know absolutely nothing about comic books and aren't necessarily interested in buying a comic series so as to understand what is going on! You can envision the events take place as you listen to the lyrics, so I also think that fans of the comics who don't consider themselves fans of metal can still listen to this and find it enjoyable. While I know nothing about the comics and am sure there is more to the story than what can fit on a 60-minute album, the plot is cohesive and has a solid beginning and end where ongoing events transpire in-between; so in that respect, I do think that fans of the comic could listen to this and be able to respect what the band is trying to accomplish here, even if the music is not their particular style.
On that note, I have probably repeated this sentiment every time I write a review for one of their albums, but I can only write my honest opinion, and Tales From the Deadside is another effort that continues to explain why A Sound of Thunder has become one of my favorite newer bands on the scene and why I continue to give such high praise to their music. I think there is a reason why every person I have ever introduced to their music has come away a new fan: quality speaks for itself, and when A Sound of Thunder lets the music do the talking, it speaks as loud and clear as Nina's mighty voice. If you are a fan of strong female vocals, or if you just like good old-fashioned no-frills metal, or if you are a fan of old-school metal who is somehow convinced that there is "no good music out there anymore", get yourself a copy of this album and let A Sound of Thunder render you speechless with a colossal sonic boom that could have only been bestowed upon them by the metal gods.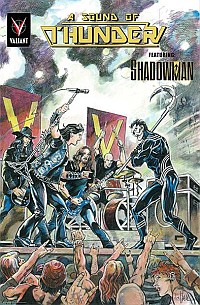 Tales From the Deadside comic book cover
Special thanks to Tim Borzi
For more information on A Sound of Thunder:
http://www.asoundofthunderband.com/
For more information on the Shadowman series or Valiant comics:
http://www.valiantuniverse.com/comics/shadowman/