Tattermask - CD Review
Carpe Noctem

CD Info
Genre: Alternative/hard rock
Tracks: 5
Total time: 19:30
Language: English
Rating: 9 of 10
The femme-metal scene in the United States has been growing steadily over the last decade or so; a market once dominated chiefly by Europe, slowly but surely American bands are making their mark. What has also made this all the more interesting is bands are cropping up all the time in places you would never expect them. Far from the major cities like New York and L.A., the American femme-metal bands are generating the most buzz in places with not a wide reputation for being "musical" cities.
Case in point: North Carolina's Tattermask; hailing from Charlotte, North Carolina. If you are hard-pressed to name a famous band or artist from the area, don't feel bad! However, these unique locations have been what has given many of these bands their edge, and Tattermask are no different. Opening for bands like Lacuna Coil and The Agonist on the Hottest Chicks in Rock tour earlier this year in their hometown, Tattermask has shown that they can rock with the best of 'em.
Their 5-song EP, Carpe Noctem, was released earlier this year. Sad to say, this will be the last Tattermask album, as the band has recently announced on their Facebook page that Halloween will be the band's final concert, as they go on to new musical projects. So while I was happy to review an album of a new band I liked, I am also a little sad that I won't get to hear more from them.
The first track, "Better Off Alone?" kicks off with heavy guitars and pounding drums. Already I'm banging my head, and Amanda hasn't even started singing yet. Her voice is awesome; she is like a much-less pitchy Amy Lee, with more punch and more of a rock edge; her high notes clean and smooth, especially in the line, "together we could have it all". What I really like about this tune is that at the bridge; one typically expects an aggressive male voice to jump in with a rap or some growly vocals, but this doesn't happen here. Already Tattermask is standing out from the crowd.
A kick-ass bass line from Harley Quinn brings us to the second track and the band's first single, "Asylum". Seriously, why this song is not all over rock radio, I have no idea. It's catchy, it's hooky, it sticks in your head: it's got all the ingredients for a perfect hit single. Even all these months later after the first time hearing the album, I still consider it my favorite track on the EP.
Tattermask also shows their diverse taste in music with the third track, a cover of Seal's "Kiss From a Rose". Did you ever wonder what a rock cover of Seal would sound like? Well, it sounds pretty fuckin' awesome! Amanda pulls off some beautiful high notes, and then gets assertive on the "you are my power, my pleasure, my pain" line. What I really like about this cover is that the band maintains their signature sound; they didn't turn this into a ballad, which most bands' first inclination might be. They kept this a trademark rockin' Tattermask song, yet still keeping the integrity of the original intact. I don't know how much of a rock fan Seal is, but I would be interested to know what he'd think of this cover if he ever heard it!
"Concern", the EP's penultimate track, starts off with a little Middle Eastern vibe, and some chants and guitar work reminiscent of Lacuna Coil. It's got that super-fast drumming, dark and heavy guitars, and Amanda's big voice commands the listener's attention. This is another tune that could easily be a smash if it were played on a rock radio station.
The final track of the EP is "No More", which in hindsight, seems aptly titled, as Tattermask will soon be "no more" and this is their last song on their last album together. This is the heaviest track on the EP as well, with another groovy bass line from Harley Quinn. There are some growly vocals in the middle of the song, but I think that's Amanda's voice! Wow, she sounds really fierce! This is another one of my favorite tracks and a superb album closer. The band really puts it all out there on this song and it pays off.
Overall opinion: It really is a shame that Tattermask is calling it quits, because there is so much potential for them to have been the next big breakout band on the scene. They manage to walk that very fine line between heaviness and catchiness. They can rock with the best of 'em, but they also know how to craft a damn good song that you can sing along to. There are too few bands these days that do that anymore; anything deemed "pop" or "radio-friendly" is almost a curse word nowadays, and it's almost treated as an "either-or" situation. Tattermask blurs this line effortlessly, and reminds us all of how you can craft a killer, heavy tune while still making it accessible enough for a wider audience. I think that if given enough time and opportunity, Tattermask might have found that audience and might have found some real success on the scene here in the United States. They don't quite sound like anyone else out there; they aren't like the bands here who continue to wave the symphonic metal flag, but they aren't like the other bands here that choose to carry on in a more traditional metal fashion either. In some respects they take the best of both worlds and turn out something that is uniquely their own. Amanda is a versatile rock singer with a beautiful voice that can sound polished and pretty in one verse, and completely intense and take-charge in another. Harley Quinn is a solid bass player that lays down thick, tight grooves that give their songs just the right bounce to get your head banging. Josh and Travis provide a melodic twin-guitar approach that is not overpowering as it can be in some metal bands with two axe-slingers; yet no less formidable. Adam's drumming is strong and quick; his perspicuous style rounding out a superb rhythm section that does their part to get the listener rocking out. I would say this EP makes a great "starter kit" for people new to the femme-metal scene in general, or for those who are used to more rock-based songs and are "dipping their toes" in heavier waters. Fans of Lacuna Coil or Evanescence might also enjoy them; though I would be hesitant to say they are anything like either of those bands. It will be interesting to hear what kind of music the other bandmembers will do as they splinter off in their own directions. In any case, if Tattermask has to call it a day, Carpe Noctem is a fine swan song and a testament to the possibility of what might have been.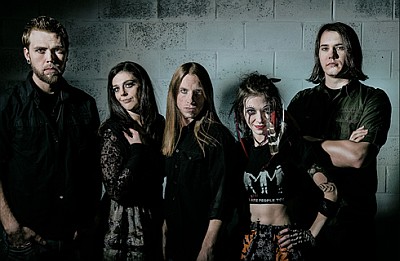 For more information on Tattermask, visit the band's website
Special thanks to Adam Guess